Subterranean magazine Summer 2011 Now Available
Subterranean magazine Summer 2011 Now Available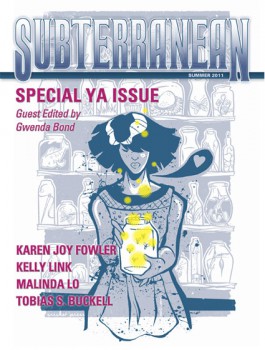 The 19th online issue — and 26th issue overall – of one of the genre's leading publications, Subterranean Magazine, is now available (at least in part).
Subterranean is published quarterly. It appeared in print for seven issues (some of which are still in print and are available here) before switching to the current online format in Winter 2007. It is presented free online by Subterranean Press, and is edited by William Schafer.
The Summer 2011 issue is guest edited by Gwenda Bond and focuses on young adult fiction. From her introduction:
Enter the fabulous writers whose stories you'll find here. Each offering showcases a different facet of the many-faceted jewel that is YA. You'll find Malinda Lo's first short story publication, "The Fox," a seductive tale featuring characters from her new YA high fantasy novel Huntress, alongside the best high fantasy zombie story I've ever read in Sarah Rees Brennan's "Queen of Atlantis." Both these authors–as well as Tiffany Trent (author of the Hallowmere series, and the upcoming The Unnaturalists), and Kelly Link (acclaimed short fiction author, whose YA stories were collected in Pretty Monsters)–will already be familiar to many YA readers, and to plenty of genre readers as well. If Genevieve Valentine's story about an unusual teen pregnancy, "Demons, Your Body, and You," is your introduction to her, I envy you; her first novel Mechanique will be out soon. Well-known SFF author Tobias Buckell provides the lone science fiction piece with "Mirror, Mirror," while newer writer Richard Larson's "The Ghost Party" tests the friendship of two girls against a backdrop of threats shady and eldritch. Finally, vampires: what YA issue would be complete without them? I promise you that Alaya Dawn Johnson's hilarious, shockingly irreverent "Their Changing Bodies" is unlike any vampire story you've read, and that New York Times' bestselling author Karen Joy Fowler's "Younger Women" also opens a different, ahem, vein.
Content is released in weekly installments until the full issue is published.  As of today, Bond's introduction and "The Fox" are available.