Fall 2012 issue of Subterranean Magazine now Available
Fall 2012 issue of Subterranean Magazine now Available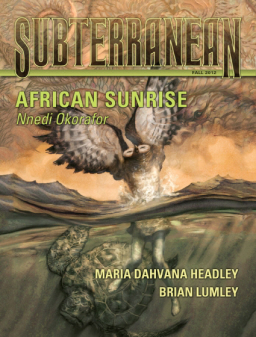 One of my favorite online magazines, Subterranean, has just released its 24th issue. Before issue 23, it was presented in a rolling format, with new fiction and articles available every week; but they've now switched to posting the complete contents all at once. That means you can now enjoy new novellas by Nnedi Okorafor and Kealan Patrick Burke, and novelettes by Maria Dahvana Headley and Brian Lumley.
The fiction this issue runs the gamut from apocalyptic horror to the mysteries of deepest Africa. Here's the complete table of contents:
"African Sunrise," by Nnedi Okorafor (31,000 word novella)
"Game," by Maria Dahvana Headley (11,000 word novelette)
"Two-Stone Tom's Big T.O.E.," by Brian Lumley (14,000 word novelette)
"When the Shadows are Hungry and Cold (A Milestone Story)," by Kealan Patrick Burke (18,000 word novella)
Nnedi Okorafor's Who Fears Death won the 2011 World Fantasy Award for Best Novel, and was nominated for the 2010 Nebula Award. Maria Dahvana Headley's memoir, The Year of Yes, an account of the year she spent saying yes to anyone who asked her out, has been optioned for the screen by Paramount Pictures; her debut novel, Queen of Kings, was published in 2010. Brian Lumley is the author of the Necroscope novels; he received a World Fantasy Award for Lifetime Achievement in 2010. Kealan Patrick Burke's novel, The Hides, was a Bram Stoker Award nominee, and his novella, "The Turtle Boy," was a Stoker Award Winner in 2004.
Subterranean has just announced that in the next couple of weeks, they'll offer an electronic edition of the current issue for just $2.99 for those who prefer to read it on ereaders. Watch the website for availability information.
Subterranean is edited by William Schafer and published quarterly. The Fall 2012 issue is completely free and available here; see their complete back issue catalog here. We last covered Subterranean magazine with their previous issue, Summer 2012.