Announcing the Winner of the Autographed Set of John R. Fultz's Books of the Shaper Trilogy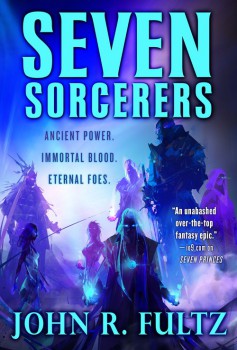 Two weeks ago we told you about the arrival of Seven Sorcerers, the third and highly-anticipated final volume in John R. Fultz's Books of the Shaper trilogy. The trilogy opened with Seven Princes (January 2012), and Seven Kings (January 2013). To celebrate the publication of the concluding book, we announced a contest to win a complete autographed set of all three, compliments of Orbit Books and John R. Fultz.
It's too late to enter the contest now, but it's not too late to discover Fultz's unique heroic fiction, which Barnes & Noble calls "flawless epic fantasy." You can try some of John's exciting stories right here at Black Gate, including "When the Glimmer Faire Came to the City of the Lonely Eye," which appeared as part of the Black Gate Online Fiction line, or the three stories that appeared in our print version: "Oblivion Is the Sweetest Wine"(BG 12); "Return of the Quill" (BG 13); and "The Vintages of Dream" (BG 15). And you can read more about John's philosophy of fantasy in his recent article, "One Man's Trash…"
We received a record number of entries, which just shows the high level of excitement among our readers for everything written by John. All the entries were recorded on a spreadsheet, and the winner selected using the office percentile dice.
We are pleased to announce that the winner of the autographed set of John R. Fultz's Books of the Shaper trilogy is Massimiliano Izzo. Congratulations, Massimiliano! We'll be touch to let you know how you can claim your books.
Thanks to everyone who entered, and to John R. Fultz and Orbit Books for sponsoring the contest. Seven Sorcerers was published on December 10th by Orbit Books. It is 448 pages, priced at $17 in trade paperback and $9.99 for the digital edition. Look for it in bookstores everywhere.