New Treasures: Weird Fiction Review 3
New Treasures: Weird Fiction Review 3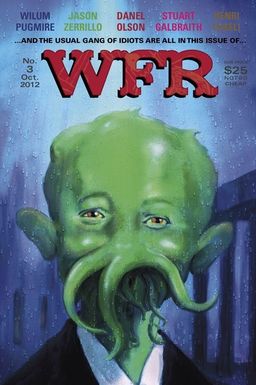 Two years ago I reported on the first issue of S. T. Joshi's new magazine devoted to the study of weird and supernatural fiction, Weird Fiction Review (not to be confused with Ann and Jeff VanderMeer's new online journal, also called Weird Fiction Review. Go figure.)
I recently stumbled across a pic of the third issue of Joshi's WFR (at left), and it made me laugh out loud. I had to order a copy, and it arrived this week.
There's lots to enjoy with the massive, 232-page issue. The front and back covers (see both here) are tributes to Mad magazine and the timeless artwork of Don Martin. Inside there are seven original stories from Michael Cisco, Joseph S. Pulver, Sr, and others.
There's also a host of intriguing articles. Darrell Schweitzer looks at Lovecraft's influence on one of the most important pulp SF stories ever written, "Who Goes There?", in "John W. Campbell's Lovecraftian Tale," and Bradley H. Sinor presents a previously-unpublished interview from 1994, in "Excellence Demanded, Whiners Piss Off: The Last Interview of Karl Edward Wagner" (which picks up several of the themes in Wagner's letter to editor Robert A. Collins published in Fantasy 55.)
There's also a 16-page gallery of art by Jason Zerrillo, the latest installment of John Pelan's column Forgotten Masters of the Weird Tale, a survey of the year in horror and gothic novels from Daniel Olson, a look at the classic 1966 kaiju film War of the Gargantuas (which author Stuart Galbraith IV calls "kind of a monster movie Nirvana, a film that delivers on the promise of its ingenious title in an orgy of gargantua vs gargantua action" — pic here), and lots more.
Weird Fiction Review 3 was edited by S.T. Joshi and published by Centipede Press on March 19, 2013. The issue contains fiction, poetry, and reviews on high quality paper with lots of color. It is 232 pages, priced at $25 for the sewn trade paperback. It's a high quality package throughout. It's limited to 500 copies, and is currently on sale for $20 from the publisher. Get more detail and order copies at Centipede Press.