New Treasures: Dark Melody of Madness by Cornell Woolrich
New Treasures: Dark Melody of Madness by Cornell Woolrich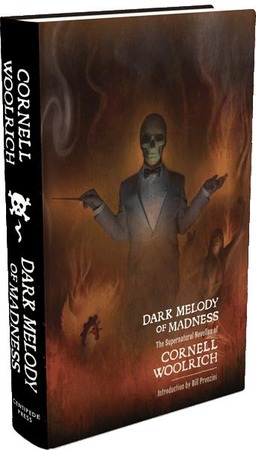 I wish a knew more about Cornell Woolrich.
From what I understand, this is a common state of affairs, even for some of his most devoted fans. Woolrich was something of a recluse, especially in the last few years of his life, and there are only a handful of people alive today who had any real dealings with him. Barry N. Malzberg, Woolrich's agent for much of the 1960s, is one of the few, and he's provided a fascinating reminisce in his introduction to Phantom Lady, one of the handsome new Woolrich editions from Centipede Press.
Woolrich is revered by mystery and noir fans — and rightly so. Some three dozen films have been made of his taut thrillers, including Rear Window, Night Has a Thousand Eyes, The Bride Wore Black, and many others. But on occasion, he also wrote supernatural fiction and Dark Melody of Madness, one of the new Centipede Press volumes, collects four of his novellas for the first time: "Graves For The Living," "Jane Brown's Body," "Dark Melody of Madness," and "I'm Dangerous Tonight," all originally published between 1935 and 1938.
Holding on to a loved one can be difficult, but certainly not as weird and treacherous as in this quartet of Cornell Woolrich novellas set in the mid-1930s. It's a time of great incongruities — physical anguish of the Great Depression, lighthearted dancing to the rhythms of swing; near-legendary bank robbers, daredevil long-distance airplane pilots; head bashing of union members, air-conditioned comfort for movie goers.

Woolrich takes this milieu, adds an overlay of the supernatural, and places his protagonists in grotesque, untenable situations involving their lives and souls. Here is the eerie world of voodoo, Frankenstein-style reincarnation, live burial, and macabre garments — a mixture of cold sweat-producing dilemmas, where the characters find it near-impossible to separate the real from the unreal.
Dark Melody of Madness was published by Centipede Press on August 6, 2013. The introduction is by Bill Pronzini, and the cover and color interiors are by Matt Mahurin. The trade paperback is 296 pages, priced at $18; there's also a limited edition, out-of-print hardcover. The hardcover edition lists an additional novella, "Mannequin," on the TOC. For mystery and noir fans, Centipede Press offers three additional volumes in the series: Deadline at Dawn, I Married a Dead Man, and Speak to Me of Death (see the complete set here.)