Spotlight on Fantasy Webcomics: Lora Innes's Dreamer Comic Captures 1776
Spotlight on Fantasy Webcomics: Lora Innes's Dreamer Comic Captures 1776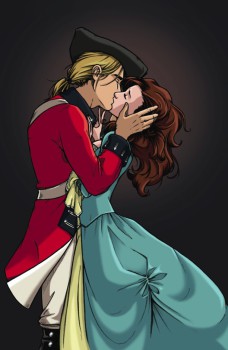 It starts with a kiss.
That's the first thing that modern teen Beatrice really remembers about the strange dreams that start plaguing her life. But the theater student with very little knowledge of history starts getting a crash course in the history of the American Revolution when she finds herself thrust into the middle of the Revolutionary War herself. In her dreams, she is still Beatrice Whaley, but she's the daughter of a Tory from Boston, in love with an apple farmer patriot who's given up rank and position in the army all for the chance of rescuing her from the Redcoats.
Portal fantasy — the subgenre where modern people (usually children) travel to a fantasy world — is supposedly not en vogue right now. Dream fantasy seems to me to be a subset of that. But Lora Innes's comic The Dreamer is one of those stories that makes me wonder why more people don't love this format. It is in many ways a perfect gateway into history. As a kid, I remember reading The Devil's Arithmetic by Jane Yolen, in which a modern teen is transported into the middle of the Holocaust, and feeling that it was the book about the Holocaust (and there were many) that best made me understand what it was like to be in the middle of those horrific events. The Freedom Maze by Delia Sherman, which won the Mythopoeic Fantasy Award in Best Children's Literature in 2012, transports a girl from 1960 to 1860, and — even as an adult — gave me greater insight into both time periods. Having a Hannah or a Sophie, that modern voice I can identify with, introduce me to history makes it more real. And even though I've read a great deal about the American Revolution, watching Bea learn about it, both as she sleeps and — as her friends are threatened by the perils of the war — through the research she begins during her waking hours, brings that period to life in a fresh new way.
The romance angle, of course, doesn't hurt.
What Innes does right from the very beginning, aside from immediately appealing to a teenage female audience (a group traditionally underserved in comics), is create a story that is deeply centered on its characters. (Though it maintains that audience bias, anyone who enjoys character-centered adventures, particularly set in times of war, has a chance to get hooked.) Bea only cares about history because the people — love interest Alan Warren, friend Nathan Hale, respect-worthy adult Thomas Knowlton — are so immediately real to her. And they seem to know her, and have history with her, that she can't remember. And because the Revolutionary War is such a tumultuous time, she's immediately faced with the idea that the people who have become so important to her might be taken away. Meanwhile, she struggles to balance the vivid dreams with her waking life; as she becomes more and more convinced that her dream life is real, she makes some dangerous decisions to spend more time living in the past. Balance those decisions against a Bea who is determined to do whatever it takes to help the patriots and, as a reader, it's hard to judge her: her heart is in the right place, even when her head is not.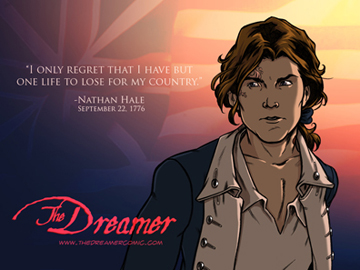 One of the experiences that has been so fun following The Dreamer as it's written watching the reader comments, particularly in historical events that everyone knows are going to occur. Because Innes's Nathan Hale is such a fantastic character — and such a fan favorite — his death (it's not a spoiler; it happened in 1776) hit the fan community so hard that Innes released a farewell comic in which Hale addressed the readers. Which says to me that history has come alive for far more people than Beatrice Whaley. Through Innes's writing and fantastic art — a Disney-esque style that showcases emotions as much as action — a whole audiences of budding historians has latched onto the historical figures who lived the American Revolution. (I myself am the proud owner of a "Knowlton's Rangers" t-shirt from The Dreamer store — proclaiming allegiance with a historical military unit I hadn't even heard of until I read Innes's comic.) Considering that, when the comic returns on January 15, it's going to be more deeply involved with American Revolutionary espionage, I have high hopes we'll get an insider's view of the Culper Ring (even though it wasn't officially formed until 1778). Forget James Bond; let's see Benjamin Tallmadge in action!
The Dreamer has been on hiatus since June, which means that right now is a fantastic time to catch up on the archives — because new pages start coming out in two weeks. So hop over to page 1 and get started!