Bookburners Season 2 Launches with "Creepy Town"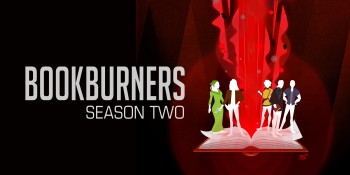 I have been to creepy towns in the American north east. Once, while lost in central Massachusetts, I stopped at a convenience store for directions. The woman within who gave me the directions I needed was eerily nice; the stock on the shelves of the convenience store held products with labels that looked older than I was. On a trip in upstate New York, I stopped at a post office; the misty morning combined with the general disrepair of the sidewalks and exterior of the building had my companions looking out the windows to be ready when the zombies arrived. Thankfully, neither of those creepy towns had anything on "Creepy Town," the first episode in Season 2 of Bookburners.
Short recap: Bookburners is the first serial from Serial Box Publishing, a company dedicated to producing prose fiction that feels like the best modern serial storytelling—meaning, the stories feel like really excellent television shows. Each serial has a writing team that works together to create the season, and each episode is written by a member of that team and released on Wednesday mornings for your reading pleasure. I've read mine via phone, tablet, and listened to the audio versions (included in the per-episode or season-pass cost) while I'm out on a run. And "Creepy Town" makes truly excellent inspiration for running.