Weird Fiction Review, and its Doppelganger
Weird Fiction Review, and its Doppelganger

Back in August we reported that Wildside Press sold Weird Tales magazine to Marvin Kaye, leaving editor Ann VanderMeer out in the cold.
But it didn't take long for Ann and her husband Jeff VanderMeer, World Fantasy Award-winning author of Finch and City of Saints and Madmen, to bounce back with a new enterprise: Weird Fiction Review, an online journal of fact and fiction:
WeirdFictionReview.com is an ongoing exploration into all facets of the weird, from the classics to the next generation of weird writers and international weird. Reviews, interviews, short essays, comics, and occasional fiction.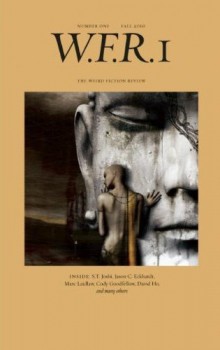 Cool. Ann and Jeff are a creative force to be reckoned with, and together they have co-edited several fine fantasy anthologies, including The New Weird and the monumental The Weird: A Compendium of Strange & Dark Stories, a four pound, 1,152-page exploration of weird fiction over the last century. The new website looks extremely promising as well, featuring fiction by Jeffrey Thomas, Jean Ray, and Michal Ajvaz, non-fiction from Jeffrey Ford, Scott Nicolay, António Monteiro, and others, and a web comic by Leah Thomas.
Astute genre readers will note there's already a fine periodical with the name Weird Fiction Review, a critical journal edited by the distinguished S.T. Joshi (see right). Published annually by Centipede Press, the first issue was released in Fall 2010. According to Ann & Jeff,
This site exists in a symbiotic relationship with S.T. Joshi's print journal The Weird Fiction Review but does not share staff.
Whatever that means. But hey, we're just happy to have Ann back at the helm of a new fantasy magazine, doing what she does best: discovering and promoting new talent. More power to her.