Marvin Kaye to Edit Weird Tales
Marvin Kaye to Edit Weird Tales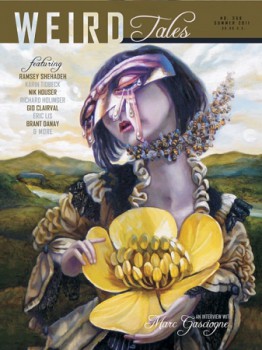 Marvin Kaye, author and editor of 28 genre anthologies, including Weird Tales: The Magazine That Never Dies, Masterpieces of Terror and the Unknown, and the World Fantasy award-winning The Fair Folk, has reportedly purchased Weird Tales from John Betancourt of Wildside Press, with the intention of editing it himself.
Current editor Ann VanderMeer reported the news on her blog:
I am very sad to have to tell you that my editorship at Weird Tales, which has included one Hugo Award win and three Hugo Award nominations, is about to come to an end. The publisher, John Betancourt of Wildside Press, is selling the magazine to Marvin Kaye. Kaye is buying the magazine because he wants to edit it himself. He will not be retaining the staff from my tenure. I wish him the best with the different direction he wants to pursue, including his first, Cthulhu-themed issue. The current issue of Weird Tales is #358, just published. My last issue will be #359, which Kaye plans to publish in February…

The past five years reading fiction for Weird Tales magazine has been an honor for me. I had a blast doing this but I have also contributed to the canon of "the weird tale"— a responsibility I take seriously, not only for the readers of today, but for the readers of tomorrow. This iconic magazine originally blazed a trail for new approaches to dark fantastical fiction, and I did my best to return to that legacy.
Technically the Weird Tales name is owned by Robert Weinberg and Victor Dricks, who purchased it in the late 1970s, and who have licensed it to multiple publishers over the past three decades, including Terminus Publications, DNA Publications, and Wildside Press.
While VanderMeer's tenure at Weird Tales was occasionally controversial — especially among sword & sorcery fans — she took some brave risks with the magazine. With Stephen H. Segal she presided over an ambitious and successful redesign in 2007, brought home the first Hugo Award in the history of the magazine in 2009, and she assumed his post as editor-in-chief when Segal departed in January of last year. I thought she did a fine job, and she will be missed.
On the other hand, always glad to see a good Cthulhu-themed issue. I'm looking forward to seeing where Kaye intends to sail with Weird Tales.  I expect it will be places both strange and familiar.