When One Window Closes . . .
When One Window Closes . . .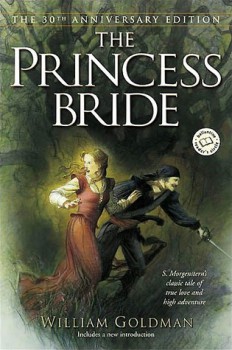 A friend of mine has stated – many times – that he won't date anyone who doesn't love The Princess Bride, or Rioja wine. It's the former that's important to me at the moment, even though I love a good Rioja myself. Actually, my friend thinks that Princess Bride is the best movie of all time, and I think he's absolutely right. Except that he's also absolutely wrong.
We've all had the experience of sharing some beloved book, or film, or piece of music with someone, and being disappointed by their tepid reaction. You know. They're like, polite. What's more, we've all disappointed others in the same way. Like it or not, when this occurs, we do feel differently about each other. And neither side is wrong, but neither side is right, either.
Welcome to my Window Theory of Emotional Response. Otherwise known as the Princess Bride Paradox, the Star Wars Syndrome, the Heinlein Hypothesis, or – dare I say it? – the Frodo Phenomenon. In a nutshell, here it is: for you to have a deep emotional response to something cultural, your exposure to it has to have come at the right time for you.
My theory builds from the phrase many of us have used in other contexts, "that window's closed." AKA "that ship has sailed." Both phrases imply that there was a period of time when something was possible, that the window was "open," and then, it wasn't. The opportunity is lost. For a piece of culture to move you, to change the way you think about yourself and the world around you, you have to encounter it at precisely the right age, or the right level of emotional maturity or development or – call it what you will.
Or you haven't, and that window's closed for you.
You read Heinlein at the right time, and he's an inspiration. At the wrong time? He's a jingoistic, fascist, at worst, and boring and out-of-date at best. Harlan Ellison? Either a revelatory call-to-arms, or a lot of self-aggrandizing cynicism. I've had people tell me The Princess Bride was "pretty funny," people who say "I just don't get it " about Firefly, or people who – and perhaps this is the most disconcerting – feel that LOTR is "derivative."
Here's the explanation for that last one: if you come to an origin work only after having read all the things which it inspired, it's going to seem tired and overfamiliar. That happened to me with Raymond Chandler. I did realize that the problem wasn't with Chandler, but with the fact that I'd read McDonald and Parker and even Hammett first. But that, however, was just an intellectual recognition, it didn't do anything for my emotional response. Raymond Chandler was no longer able to blow me away; no longer able to change the way I looked at literature and the world. That window had closed.
So that might be it. Sometimes it's just that we've just read/seen/watched too many other books/movies/TV shows like the one our friends are mad for. Sometimes it's worse. Sometimes we can see how great it is, and we see how much it would have moved us, and how important it would have been for us, if only the window had still been open.
When I run into people now who haven't seen the original Star Wars, I leave them alone. I say "Gee, that's too bad." But I've stopped suggesting that they drop everything and see it.
At this time of year, you tend to see a lot of lists along the lines of "The Ten Most Important Books," or, "The 100 Movies Everyone Should See." If there are gaps in my lists, I don't let it worry me anymore.
You know something? I haven't seen Avatar yet. I have a horrible feeling that window's closed.
---
Violette Malan is the author of the Dhulyn and Parno series of sword and sorcery adventures, as well as the Mirror Lands series of primary world fantasies. As VM Escalada, she writes the soon-to-be released Halls of Law series. Visit her website www.violettemalan.com