Win a Complete Autographed Set of John R. Fultz's Books of the Shaper Trilogy!
Win a Complete Autographed Set of John R. Fultz's Books of the Shaper Trilogy!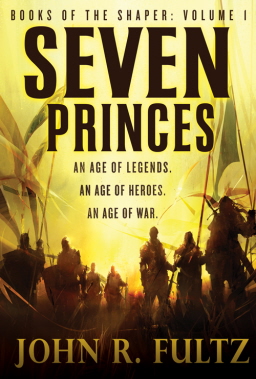 Last week we celebrated the arrival of Seven Sorcerers, the third and highly-anticipated final volume in John R. Fultz's Books of the Shaper trilogy.
The trilogy opened with Seven Princes (January 2012), which Barnes & Noble called "flawless epic fantasy," and Seven Kings (January 2013), which thebookbag.co.uk called "wonderful stuff… Tarantino and Tolkien have a literary love child and his name is John R. Fultz." Seven Sorcerers brings the sequence to a close with thundering climax that does not disappoint.
Now you have a chance to win a complete autographed set of all three volumes, compliments of Orbit Books and John R. Fultz.
How do you enter? Simple — just send an e-mail to john@blackgate.com with the title "Seven Sorcerers" before Friday, December 20, 2013, and we'll enter you in the drawing. One lucky winner will win all three books.
Can't wait for the contest? Try some of John's exciting fiction right here at Black Gate, including "When the Glimmer Faire Came to the City of the Lonely Eye," which appeared as part of the Black Gate Online Fiction line, or the three stories that appeared in our print version: "Oblivion Is the Sweetest Wine"(BG 12); "Return of the Quill" (BG 13); and "The Vintages of Dream" (BG 15). And you can read more about John's philosophy of fantasy in his recent article, "One Man's Trash…"
All entries become the property of New Epoch Press. No purchase necessary. Must be 12 or older. Decisions of the judges (capricious as they may be) are final. Terms and conditions subject to change. Sorry, US and Canada entrants only. Not valid where prohibited by law. Eat your vegetables. And good luck!