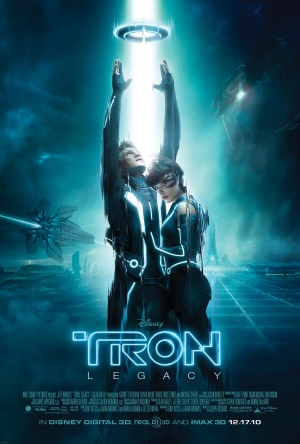 TRON: Legacy (2010)
Directed by Joseph Kosinski. Starring Jeff Bridges, Garrett Hedlund, Olivia Wilde, Bruce Boxleitner, Michael Sheen.
Disney has sunk a hefty amount of money into the making and marketing of TRON: Legacy as a blockbuster and a future franchise. Given the long-term currency of the 1982 original, this is what you would expect. The IMAX 3D release that coincides with last year's release of Avatar makes Disney's scheme of conquest obvious.
And yet, after watching the film, I have to wonder if Disney had any idea what they were doing with this, uhm, strange and mostly airless film. It's decked with gorgeous neon visuals and special effects, but it is neither an action extravaganza to grab the young viewers nor an intelligent enough follow-up to the heady ideas that TRON smashed around in 1982 at the edge of the computer revolution. It appears that the revolution has not been televised. Or not screened.
TRON: Legacy is no fiasco—it will make a profit and I imagine that international box-office will make up the significant part of it—but it's only "adequate" all around. Considering that I went into the film with the realistic expectation that it might very well suck, I can say with enormous lack of passion that I am "satisfied." However, this won't be a film I'll want to revisit the way I do its predecessor, nor will it make it onto my DVD shelf. The benefit of the IMAX 3D presentation is significant enough (see it in this format if you can) that my disappointment would increase in its absence.
---