She Likes Us…
She Likes Us…
Lois Tilton has some nice words to say about content provider (or what used to be called a magazine) Blackgate in her year-end evaluation of sources for SF&F short fiction: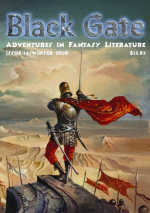 Black Gate put out only a single issue this year but made up for it in the sheer mass of sword and sorcery and other adventure fantasy. The quality was high; I'm happy to see this zine has given up its excessive attachment to endless story series. My favorite was "The Word of Azrael" by Mathew David Surridge, possibly the ultimate sendup of sword and sorcery.
She also cited Interzone as her favorite SF magazine.  While I hardly begin to touch the depth of her coverage, I feel the same way.  I was also interested to see her comment that,
F&SF remains one of the most diverse publications in the field, with a mix ranging from mundane science fiction to horror. It provided more stories that ended up on this list than any other publication, but I wish there hadn't also been so many silly stories of little merit…
That's always been my impression and I wonder if Gordon van Gelder feels compelled for some reason to publish these "silly stories" as a kind of tribute to the pulp tradition of stories that were silly even by the standards of the era.  Of course, that's part of the charm, I suppose.  Sort of like the whole "Crouching with Dragons" phenomenon in which you're making a purposefully bad movie, but doing it really well.  On the other hand, seeing it one time is kind of amusing, but a regular diet makes you all the more desirous of something with higher nutrition.