Dark City Games Christmas Special
Dark City Games Christmas Special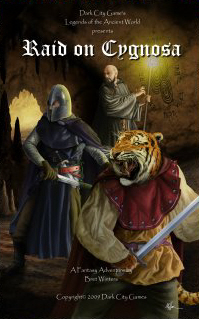 We're big fans of Dark City Games at Black Gate. Todd McAulty first reviewed their solitaire fantasy adventure The Island of Lost Spells  in Black Gate 10, and Andrew Zimmerman Jones picked up the thread with a look at Wolves on the Rhine (BG 11), and Void Station 57 (BG 13). Howard Andrew Jones carries on the tradition in the upcoming BG 15 with a review of one of their latest titles, The Oracle's Breath.
We even included a complete solo adventure from Dark City Games in Black Gate 12, Orcs of the High Mountains, and posted a short solitaire SF adventure by Dark City here on the BG website, S.O.S, a prelude to their At Empire's End.
Dark City have re-captured the spirit of the best solitaire adventures from the dawn of role-playing, particularly the classic Metagaming titles like Death Test. Their games are easy to learn, quick to play, and a lot of fun.
To celebrate their success during the year, Dark City Games is offering a buy 4 get 1 free special on their website — a 20% discount.
Select any four games from their extensive catalog of Ancient World (fantasy), Time and Space (science fiction), or Untamed West (western) titles, and receive a fifth game of your choice free. The sale even includes their newest titles, such as Raid on Cygnosa and At Empire's End.
And tell them Black Gate sent you!