Fantastic, June 1965: A Retro-Review
Fantastic, June 1965: A Retro-Review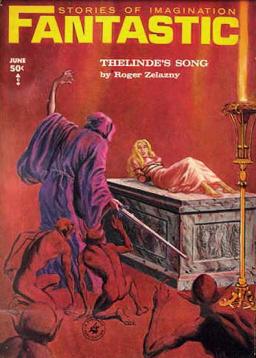 At last I return to an issue of Fantastic from the Cele Lalli era. Indeed, this is the very last issue of the Cele Lalli era.
The June issues of Amazing and Fantastic were the last published by Ziff-Davis. They were sold to Sol Cohen's Ultimate Publishing, and resumed appearing as bimonthlies with the August Amazing and then the September Fantastic.
At this time they began publishing mostly reprints, drawing on the huge library of stories published originally in Amazing and Fantastic, for which they had, legally, unlimited reprint rights. (Eventually Cohen was forced or shamed into paying a small fee.)
Perhaps because this is the last issue before the transfer to new ownership, there are no features: no interior art, no book review, no editorial, nothing. The cover is by Gray Morrow, never a favorite of mine, illustrating Roger Zelazny's "Thelinde's Song."
Click the image at left for a bigger version.
I don't like it much – the color is a muddy red, and the menaced virgin on the altar isn't very attractive. (Shallow of me, I know, but there you are!)
The stories are:
Novelet
"The Destroyer," by Thomas N. Scortia (9,700 words)
Short Stories
"Thelinde's Song," by Roger Zelazny (2,500 words)
"The Penultimate Shore," by Stanley E. Aspittle, Jr. (5,000 words)
"Phog," by Piers Anthony (4,200 words)
"Silence," by J. Hunter Holly (8,000 words)
Vignette
"The Little Doors," by David R. Bunch (600 words)
Serial
The Other Side of Time, conclusion, by Keith Laumer (17,600 words)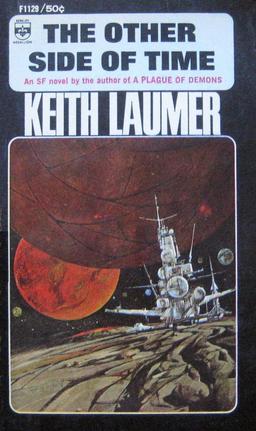 I don't have much to say about the serial – I haven't read it. (I'll wait until I get the rest of the issues!) But it's the sequel to his first novel, Worlds of the Imperium (1962), which is pretty good. It's about parallel worlds, specifically about agent Brion Bayard, and his adventures across multiple parallel timelines.
Thomas N. Scortia was from my neck of the woods – he was born in Alton, IL, just across the river, and he got his degree at Washington University in St. Louis, and he worked in my business, aerospace. He began publishing short fiction in 1954 with "The Prodigy," and some of his early stories garnered a fair amount of positive notice, stories like "The Shores of Night" and "The Bomb in the Bathtub." He published over 50 stories in his career, which was cut short due to his early death, just short of age 60, from cancer. He turned to novels in the 1970s, after a downturn in the aerospace business, most of which were technothrillerish collaborations with Frank Robinson.
"The Destroyer" is about a young boy in a school for the mentally challenged, in a future where Earth is quite comfortable, almost a utopia, after a period of destructive wars, but the fledgling colonies on the outer planets are less tame. One thing Earth fears is genetic manipulation. The boy is found to have strange abilities, and Anton Blackwell of the Genetic Bank is sent to investigate. He finds things very interesting indeed, especially when he talks with his ex-wife, who is just back from Titan, and who has stories of some children there. The title refers to the likely impact of the boy's talents on human society… it will destroy it – but is that really for the worse? I thought it a pretty decent story.
It's appropriate that the last Lalli issue of Fantastic would feature a Zelazny story, as he, along with Ursula K. Le Guin, was one of the two most significant of her discoveries. That said, "Thelinde's Song" is pretty minor Zelazny. It's a Dilvish the Damned story, but from an oblique angle, as Thelinde is a young woman witnessing, with her mother, the return of Dilvish, from a long sleep, to again battle a dangerous wizard. The problem is, nothing really happens – the stage is merely set for future action.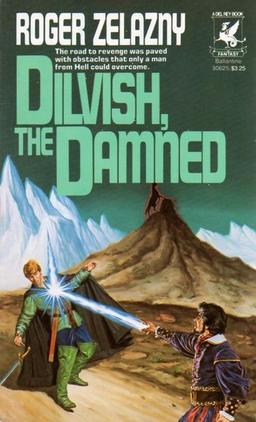 Stanley E. Aspittle, Jr. is a truly Little Known Writer. "The Penultimate Shore" is the only story he published in the SF magazines (and, at a guess, anywhere). I went looking for the name and found records of a Stanley Edgar Aspittle born in 1912 in Burbank, CA, of a man with the same name serving as a Professor at the University of California, Santa Barbara in the early '40s, and other records of a Stanley Edgar Aspittle born in Los Angeles in 1938. It seems plausible that the younger one is our man, Stanley E. Aspittle, Jr., who would have been 27 when this story was published.
It's not a bad story, about a man living almost alone in a deserted seaside location, who makes love to a beautiful woman every night (before she disappears), and who meets a curious older man sometimes during the days. It becomes reasonably clear soon enough that it might be an afterlife fantasy, though things are never really resolved fully successfully. But the prose is fine, and the story interesting, if not quite a success, as I said. I've have expected to see more from the writer, but there never was.
Piers Anthony's "Phog" is SF (as much of this issue is), about a group of humans living a precarious existence on an alien planet, apparently tide-locked with its sun, such that they occupy just the borderlands. They have little knowledge, just superstition, and they are deathly afraid of "Phog," which appears at certain times when the sun disappears, and which hides monsters. The main character is a young man who loses his sister to the Phog, and works to develop a  counter, involving mirrors. Minor work.
J. Hunter Holly, real name Joan Carol Holly (1932-1982), published about a dozen novels beginning in 1959, mostly for low end imprints like Avalon, Monarch, Manor, and, at the end of her career, Roger Elwood's Laser Books. She didn't publish much short fiction, and most of it was also for Elwood, for his various anthologies in the early- to mid-70s. (Some of this was published as by Joan C. Holly.)
"Silence" was her first piece of short fiction. It's got a neat premise – in the future, people have conditioned themselves to be unable to hear, because of the constant noise in the environment. Musicians are still highly prized, but their music is "heard" by watching dials that display the variations in sound. The hero is a top musician who trains himself to actually hear, and is able to hear real music. He tries to reintroduce this to the rest of society, with predictable results. It doesn't really quite work, but it's kind of neat.
Finally, the inimitable David R. Bunch's very brief "The Little Doors" is, well, pure Bunch, hard to describe, but pretty effective. It's about a sort of performance, with weirdly named "creatures" showing up and… well, no point in description. Needs to be read. It's worth the 600 words.
Our recent coverage of Fantastic includes:
December 1959
April 1960
January 1962
February 1962
June and July 1962
November and December 1963
January and February 1964
August and September 1964
October 1964
January 1965
June 1965
Fantastic Stories: Tales of the Weird & Wondrous, edited by Martin H. Greenberg and Patrick L. Price
---
Rich Horton's last Retro Review for us was August 1963 issue of The Magazine of Fantasy & Science Fiction. See all of Rich's retro-reviews here.