Vintage Treasures: Fantastic Stories: Tales of the Weird & Wondrous, edited by Martin H. Greenberg and Patrick L. Price
Vintage Treasures: Fantastic Stories: Tales of the Weird & Wondrous, edited by Martin H. Greenberg and Patrick L. Price
Dungeons & Dragons publisher TSR acquired Amazing Stories, the longest running science fiction magazine in the world, in 1982, as a vehicle to help promote their family of games to SF readers around the world. By the mid-80s, TSR had their first fiction bestseller on their hands with the first Dragonlance trilogy by Margaret Weis and Tracy Hickman, which sold well over three million copies worldwide and spawned dozens of sequels, and TSR quickly became very adept at leveraging all aspects of publishing to support their properties. If publishing D&D novels helped introduce millions of young readers to their products, why not try the same with Amazing Stories?
So TSR contracted Martin H. Greenberg to produce five mass market anthologies, mining six decades of Amazing fiction. The results weren't particularly big sellers (and they didn't save Amazing from eventually folding), but they were nonetheless a fabulous boon for collectors. Best of all, they included the most comprehensive survey ever done of the pulp Amazing Stories, a three-volume set containing nearly 1,000-pages, covering 1926 to 1955. I looked at all five volumes in 2012, in a Vintage Treasures article on TSR's Amazing Science Fiction Anthologies.
The long-running companion magazine to Amazing, Fantastic — which published some of the finest early sword & sorcery in the field, including stories by Fritz Leiber, John Jakes, Poul Anderson, Avram Davidson, James Tiptree, Jr., John Brunner, George R. R. Martin, Philip K. Dick, Roger Zelazny, Michael Moorock, and Dean Koontz — merged with Amazing in 1980, and the rights fell to TSR. As part of their initiative to promote their magazine properties, TSR also commissioned Greenberg and new Amazing Stories editor Patrick L. Price to compile a deluxe anthology collecting 30 years of Fantastic fiction, with new artwork and an 8-page color section reproducing some of their most famous covers. The result was a fine collection, and one of the only anthologies dedicated to one of the all-time great S&S magazines.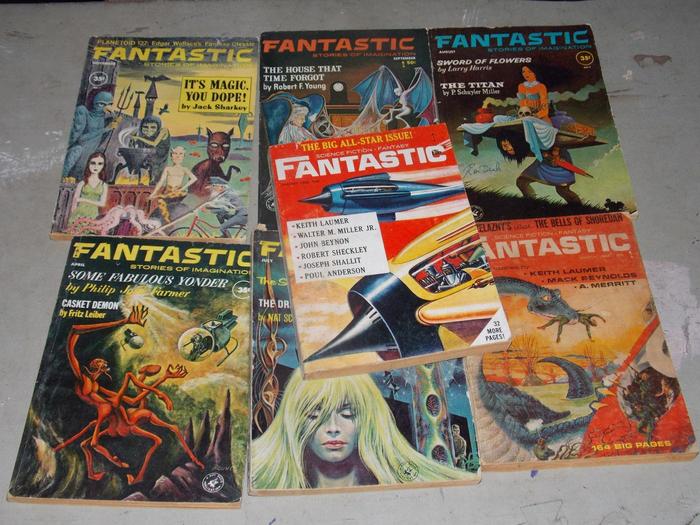 Fantastic Stories: Tales of the Weird & Wondrous was published 1987, and gathered sixteen classic fantasy tales from Fantastic Stories, including an Earthsea story by Ursula K. Le Guin, a Dr. Russell Pearce novelette by James E. Gunn, and stories by George R. R. Martin, Philip K. Dick, Roger Zelazny, Isaac Asimov, John Brunner, J. G. Ballard, Robert Bloch, Judith Merril, Poul Anderson, and many others.
I've always loved Janet Aulisio's cover, which shows a thinly-disguised Carl Kolchak (from the brilliant Kolchak: The Night Stalker) on the grounds of a sinister carnival.
Fantastic changed its names several times over the years, from Fantastic to Fantastic Stories of Imagination to Fantastic Science Fiction and Fantasy to Fantastic Sword & Sorcery & Fantasy (and probably a few others in there). Its first issue appeared in Summer 1952, and its last in October 1980.
I've assembled a very nearly complete collection of Fantastic, but I never tire of looking at their fabulous covers. For those in the audience who love old magazines as much as I do, here's a generous sample of some of its covers over its long history (click for bigger images).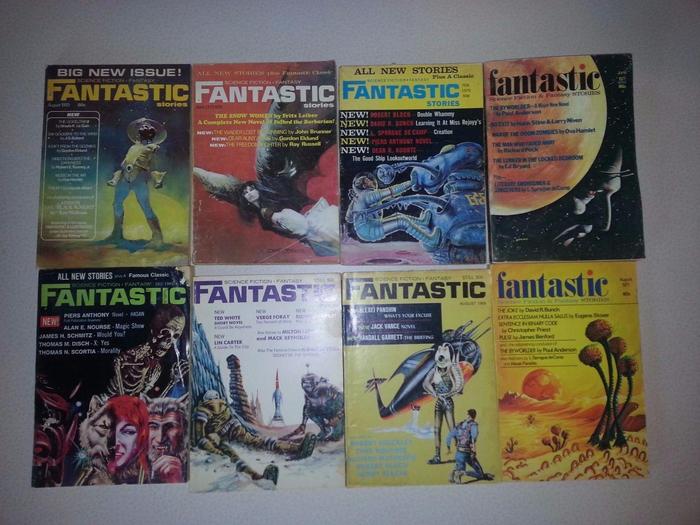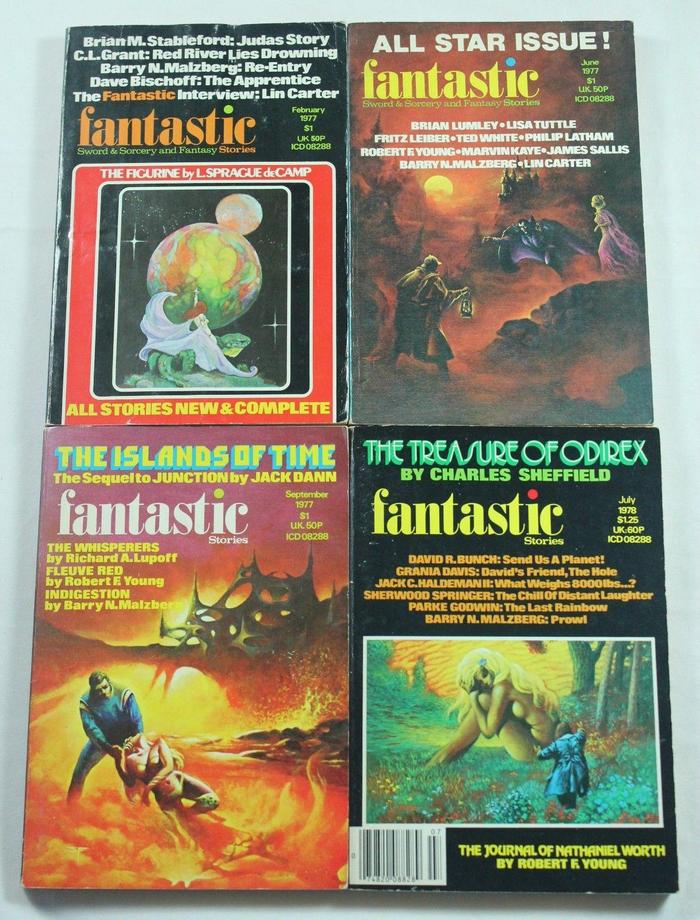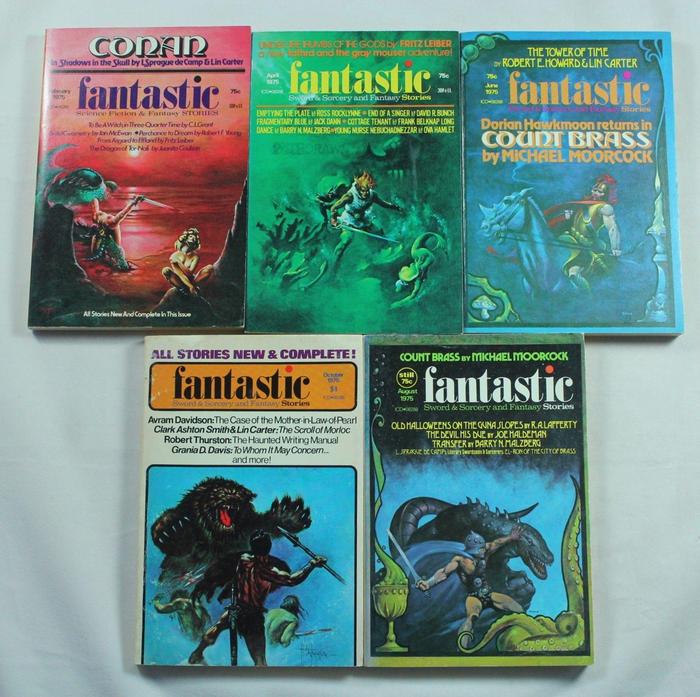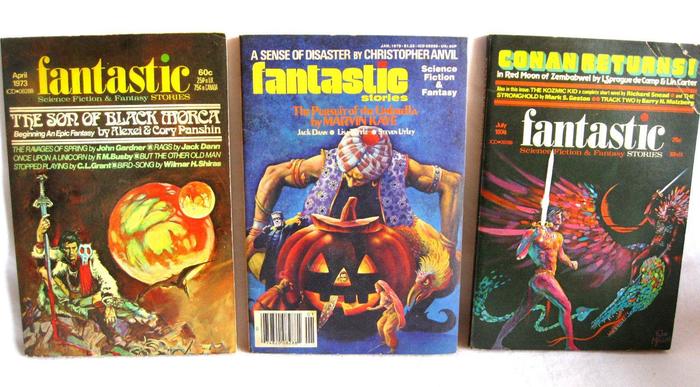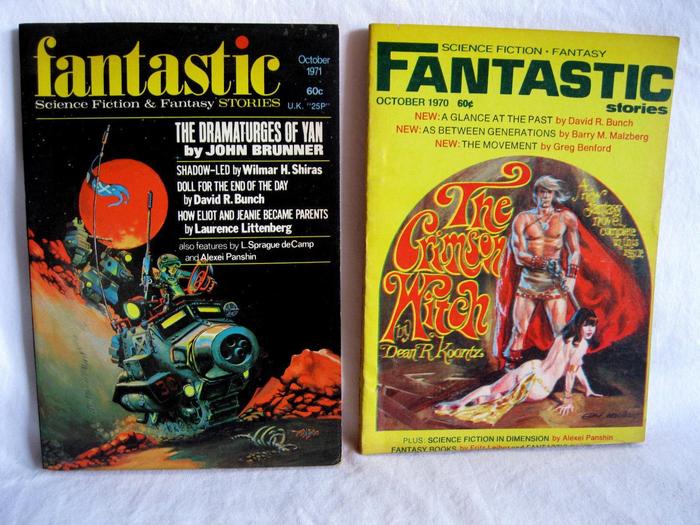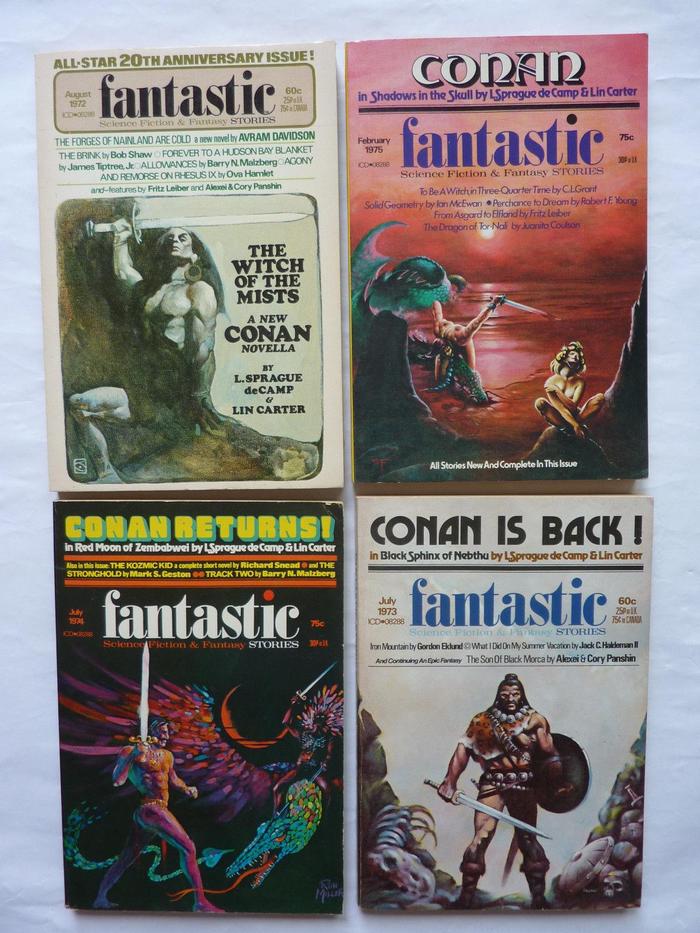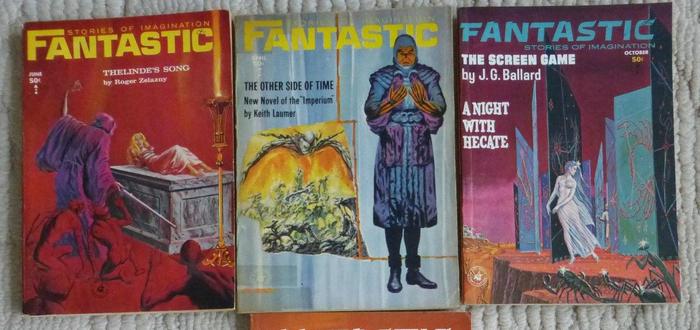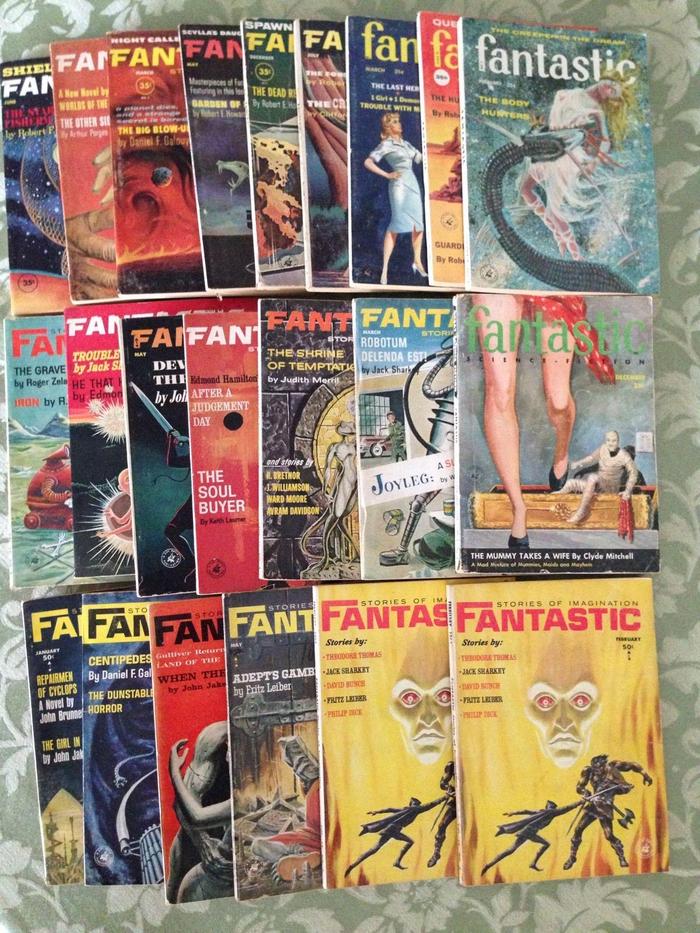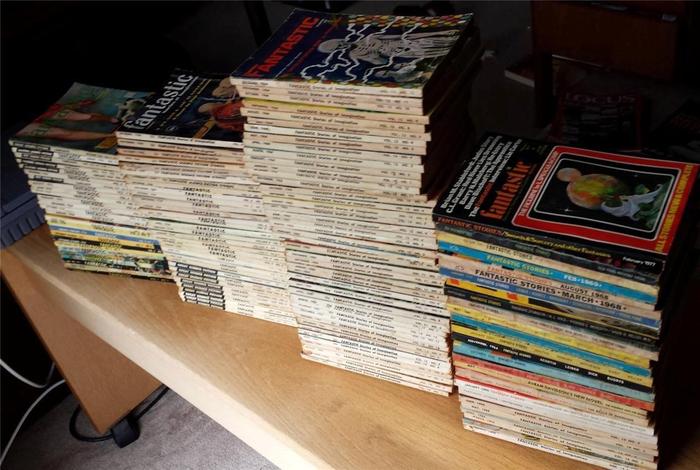 And here's the complete table of contents of Fantastic Stories: Tales of the Weird & Wondrous.
Introduction by James E. Gunn
"Double Whammy" by Robert Bloch (1970)
"A Drink of Darkness" by Robert F. Young (1962)
"A Question of Re-Entry" by J. G. Ballard (1963)
"The Exit to San Breta" by George R. R. Martin (1972)
"The Shrine of Temptation" by Judith Merril (1962)
"Dr. Birdmouse" by Reginald Bretnor (1962)
"Eve Times Four" by Poul Anderson (1960)
"The Rule of Names" by Ursula K. Le Guin (1964)
"The Still Waters" by Lester del Rey (1955)
"A Small Miracle of Fishhooks and Straight Pins" by David R. Bunch (1961)
"Novelty Act" by Philip K. Dick (1964)
"What If…" by Isaac Asimov (1952)
"An Elixir for the Emperor" by John Brunner (1964)
"King Solomon's Ring" by Roger Zelazny (1963)
"Junior Partner" by Ron Goulart (1962)
"Donor" by James E. Gunn (1960)
Fantastic Stories: Tales of the Weird & Wondrous was published by TSR in May 1987. It is 253 pages in trade paperback, originally priced at $7.95. The cover was by Janet Aulisio, with interior art by Janet Aulisio, Stephen Fabian, Brad W. Foster, Terry Lee, and Roger Raupp. There is no digital edition, but the paperback isn't particularly expensive. I bought an unread copy online for only slightly more than original cover price.
Our recent coverage of Fantastic includes:
December 1959
April 1960
January 1962
February 1962
June and July 1962
November and December 1963
January and February 1964
August and September 1964
October 1964
January 1965
June 1965
Fantastic Stories: Tales of the Weird & Wondrous, edited by Martin H. Greenberg and Patrick L. Price
See all of our recent Vintage Treasures here.