Fantastic Stories of the Imagination September-October Issue Now Available
Fantastic Stories of the Imagination September-October Issue Now Available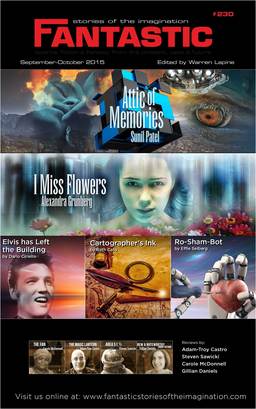 Warren Lapine's new magazine venture Fantastic Stories began publishing in August 2014. If the name sounds familiar, it's probably because the magazine evolved from the fondly-remembered digest Fantastic Stories, published from 1952-1980 by Ziff-Davis as a companion to Amazing Stories. The new version continues the numbering scheme from the original, starting with issue #219 (August 2014).
Fantastic ceased publication in 1980 when owner (and Dungeons & Dragons publisher) TSR folded it into Amazing Stories. In 1999, the name and logo were briefly revived as the new title for Edward J. McFadden's Pirate Writings magazine, also published by Warren Lapine's DNA Publications, starting with issue #16 (Spring 2000). That magazine died in October 2005 and, for a time, the name died with it.
Obviously Lapine couldn't bear to have the name lie fallow for long. The new Fantastic Stories of the Imagination is a free webzine that publishes original and reprint science fiction and fantasy from both established authors and up-and-coming talent, as well as reviews and commentary. An ebook version is available for all major publishing platforms, and the publisher also produces a yearly omnibus anthology.
The September-October issue, #230, contains two short stories by Dario Ciriello and Beth Cato, flash fiction, and reviews by Carole McDonnell, Adam-Troy Castro, Steven Sawicki, and Gillian Daniels. See the complete TOC here.
Fantastic Stories of the Imagination is edited by Warren Lapine and published by Wilder Publications. It is available free online, and in a variety of digital formats for $2.99. Check out all the details at the website.
We last covered Fantastic Stories with Rich Horton's retro-reviews of the June 1965 issue, and our look at the anthology Fantastic Stories: Tales of the Weird & Wondrous (with a survey of dozens of covers from the 50s and 60s).
Our mid-October Fantasy Magazine Rack is here. See all of our recent fantasy magazine coverage here.