Hallowe'en Post-Mortem 2015: Needle Found in Candy!
Hallowe'en Post-Mortem 2015: Needle Found in Candy!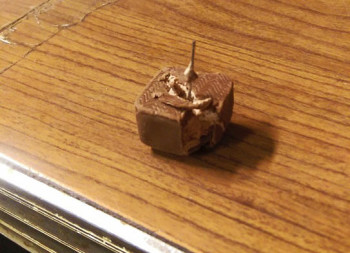 I was watching the news the day after Hallowe'en and was distressed by two stories. The first was about a five-year-old boy who was hit by a car in Minneapolis and died from his injuries. Tragic, but it did not surprise me. Given the circumstances, it's as predictable as knowing that every year during hunting season somebody somewhere is going to be accidentally shot in the woods. We hope that maybe this year everyone will come home safely, and if not, that it doesn't happen to one of our own or anyone we know.
The second story took me by complete surprise. What really upset my apple cart was a report out of Brainerd that some kid had found a needle in a Three Musketeers fun-size candy!
The reason the second story came as such a shock is that I have informed people for years that the whole razor-blade or needle in the candy story is an urban legend. It is one that has been reinforced periodically by well-meaning local police departments and (lazy) journalists, causing hysteria that whips parents into a bag-checking frenzy. They comb through the stash checking each individual piece. There are even some local medical centers that offer free x-ray screenings of Hallowe'en candy! The number of cases where these efforts have averted a child inadvertently getting a free but unwanted tongue piercing? Zero. Nada. Zilch. Because it's never happened. The time and resources would be just as well used sending search crews down into the sewer looking for alligators. Urban legend.
…Until now, I thought, with a sinking heart. Here is a case, apparently, of an urban legend being copy-catted by someone and now entering the banal realm of fact.
Why was I so upset? Because I've long been an ardent cheerleader for the tradition of trick-or-treating. I observe with regret the growing popularity of programs that offer alternatives to trick-or-treating — churches and youth organizations hosting parties (straight-up Halloween parties in most cases, but the real fringe "Halloween is devil's night" crowd redub their bacchanals-for-the-young'uns with names like "Hallelujah! Night." I'm not making that up). I've nothing against Hallowe'en parties — I love 'em! But I see them as one part of the mix, which also includes trick-or-treating before or after the party.
So when a concerned parent opines that it's just gotten too dangerous — "you have to worry about the traffic, and you just don't know what all the nutcases out there are sticking in the candy" — I immediately quell that second fear by assuring that there is no sound basis for it.
Granted, the fear of traffic is real — I have a four-year-old and a six-year-old, and the thought of traffic causes no end of anxiety for me. Alas, pedestrians being hit by cars is no urban legend. And you take thousands of kids running around on the streets at night? Inevitably someone is going to be hit by a car. It will happen every year.
Is that a reason to stop taking your children trick-or-treating? No more than one should stop taking them to the fair or to a parade or anywhere else outside your home where someone, sooner or later, is going to get hurt. (Come to think of it, inside the home is allegedly where the most accidents occur — so keeping them perpetually indoors might be the least safe option.)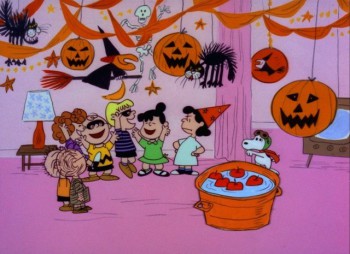 This shift to trick-or-treating alternatives (another one is going to the local mall and trick-or-treating store to store: Ugh) makes me especially sad to see here in Minnesota, my home state. Because, for me, Hallowe'en is best exemplified by the classic cartoon It's the Great Pumpkin, Charlie Brown (1966). Charles Schulz portrayed a perfect Hallowe'en (except maybe for Charlie Brown: "I got a rock!" And Linus, who missed out on all of it sitting around in a pumpkin patch). There's the party all perfectly decorated and with the traditional games like bobbing for apples. There's the planning and making of costumes, and the grand culmination of it all: the trick-or-treating.
Schulz was a Minnesota native, and he portrayed exactly what he grew up with, and what his kids grew up with, and his grandkids, and me, and now my children. That modern version of the Hallowe'en celebration really originated here. Obviously the many rituals and traditions have roots that go back, in some cases, many centuries and even millennia. But Hallowe'en as it is conceived in America today — as one sees it in It's the Great Pumpkin — evolved in Minnesota in the 1920s and '30s. Prior to that, it had become a night of rowdy, drunken revelry, when juvenile delinquents roamed the streets doing real damage ("tricks" would be an understatement — we're not talking the relatively mild pranks of TPing or tossing eggs).
In 1920, "Anoka, MN, a.k.a the 'Halloween Capital of the World,' was the first city in America to officially hold a Halloween celebration, in an effort to divert kids from pulling pranks like tipping outhouses and letting cows loose to run around on Main Street" (deliriumsrealm.com). Other Minnesota communities followed suit. City councils even prepared books outlining various games, costume parades, and other kid-friendly activities that would shift the holiday toward a family-centered one. (I have one of those brass-fastener-bound books from the 1930s — highly collectible and quite fascinating. It is a thick ream of pages introducing the reader to all sorts of Halloween games and activities, many of which are still quite familiar today.)
I am disappointed to see trick-or-treating, after nearly a century of being a near-universally enjoyed tradition of American society, be shunned by so many in this generation.
So I am quite happy to report that on November 3, two days after the story first broke, the needle in the piece of candy was revealed to be A HOAX!
According to the Brainerd Dispatch, "further investigation by the police department revealed that the child involved had fabricated the incident."
Heh heh heh. The urban legend lives on.