Future Treasures: The Thing Itself by Adam Roberts
Future Treasures: The Thing Itself by Adam Roberts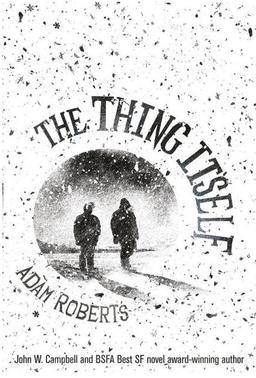 Adam Roberts is a prolific British science fiction writer. His novels include Swiftly, Stone, and The Dragon with the Girl Tattoo. Three of his novels, Salt, Gradisil and Yellow Blue Tibia, were nominated for the Arthur C. Clarke Award; and By Light Alone was nominated for the 2012 British Science Fiction Association Award.
Sadly, not many of his books have made it across the pond. But next month his publisher Gollancz will release the digital version of his latest novel, The Thing Itself, simultaneously in the US and the UK. The Thing Itself is a very intriguing riff on one of my favorite horror films, the classic SF/horror tale The Thing. Sounds like a great time for American readers to try Roberts.
Adam Roberts turns his attention to answering the Fermi Paradox with a taut and claustrophobic tale that echoes John Carpenters' The Thing.

Two men while away the days in an Antarctic research station. Tensions between them build as they argue over a love-letter one of them has received. One is practical and open. The other surly, superior and obsessed with reading one book — by the philosopher Kant.

As a storm brews and they lose contact with the outside world they debate Kant, reality and the emptiness of the universe. They come to hate each other, and they learn that they are not alone.
The Thing Itself will be published by Gollancz/Hachette Book Group on December 17, 2015. It is 352 pages, priced at $10.99 in digital format. If you prefer the print edition, you can order that from Gollancz in the UK for £8.99.