Just Launched: Rising Tide by T.L. Zalecki
Just Launched: Rising Tide by T.L. Zalecki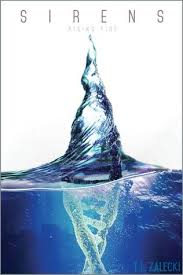 T.L. Zalecki is one of the first speculative fiction authors to be published by Amazon's Kindle Scout program. In order to receive an offer of publication, she had to post an excerpt of her book on their site and garner positive votes from browsing readers. Rising Tide: SIRENS Book 1 launched yesterday to strong sales rankings and a five star review average (nine reviews posted).
Forget whatever you think you know. History has been rewritten, and the future is in peril.

In a world where rising ocean levels swallow coastal cities and people scramble for resources on an overpopulated earth, the survival of the human race depends on biogenetic research to develop aquatic abilities. The year is 2098, and it has never been more dangerous for the elusive Sirens to be discovered.

Until now, the Sirens have remained hidden from the human world, inhabiting an obscure, undiscovered island in the Indian Ocean. Amid growing discontent among their youth, the Sirens, led by headstrong Mello Seaford, decide to test the waters of open society by striking a deal with the all-powerful megacorporation, DiviniGen Inc.

And they risk everything to do it.

Will the risk prove worth it, or will the Sirens be subjected to the diabolical whims of humanity?
I will interview this author in the near future to learn more about the Kindle Scout program and her experience with it, so watch this space!
---
Emily Mah is a writer and the owner of E.M. Tippetts Book Designs, a company that provides formatting, cover design, and editing services for independent authors and publishers.