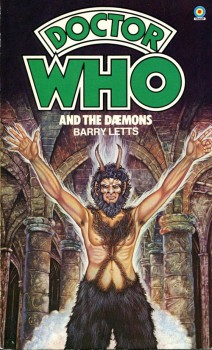 More than once on Black Gate, I've heard that the seventies were a dead zone for science fiction and fantasy. For teens in search of readily available genre "gateway drugs," I suppose this might have been true for many, but my particular experience of growing up managed, against all odds, to be different. Ohio was my home base, a vanilla environment for "culture" of the fantastical sort, but luckily I had a smorgasbord of British relatives. One especially perceptive and sibylline aunt started sending me Doctor Who novelizations.
Doctor Who and the Dinosaur Invasion, that was the first I tried. Next, one of the best offerings in the canon, Doctor Who and the Auton Invasion.  I was in third grade and after facing down those blank-eyed Autons and their Nestene masters, I was hooked.
Note that I wasn't in any way watching the TV show. In Columbus, Ohio, it simply wasn't available, not until the early eighties, and then, when PBS did pick up a few random episodes, it was Tom Baker's roost to rule. The Jon Pertwee, Patrick Troughton, and William Hartnell adventures I first encountered were absent entire.
What Tom Baker's run taught me is that talented actors can be mired forever in substandard scripts and even worse special effects. This was a total and unpleasant surprise, because the novelizations were fast-paced genre gems, especially those penned by Terrance Dicks.  (Malcolm Hulke was the other regular adapter for the Doctor Who franchise, with a rotating cast of fellow contributors including Gerry Davis, Ian Marter, and David Whitaker.) How could such pacey, adrenaline-filled books arise from such hokey, hamstrung screen material?
---