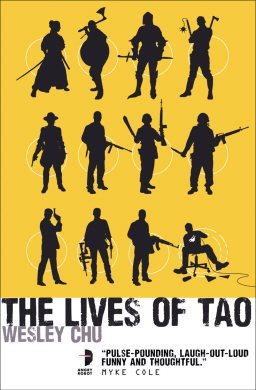 The Lives of Tao is the rare science fiction book set in modern times. No space exploration here, unless you mean the Quasing, the alien race that's been quietly (and sometimes not so quietly) orchestrating human events since… well, since there were humans to orchestrate.
Quasing are beings so ethereal that they must live within a corporeal host to survive. Once inside a host, the Quasing can only leave if the host organism dies. In essence, Quasings are immortal as long as there is a living host nearby.
The Quasing's main goal used to be to get humans to create interstellar travel so they could get to their home planet. Now, however, the Quasing are split into two factions (the good-guy Prophus and the bad-guy Genjix), whose main goal seems to be defeating the other. Tao is a member of the Prophus faction.
When Tao's host dies during a mission against the Genjix, Tao needs to find a new host, pronto. Enter Roan Tan: an overweight programmer with low self-esteem who's never run a mile, let alone held a gun, in real life. The next few months finds Tao whipping Roan into some semblance of a covert operative so they can thwart the Genjix's secret project.
There's plenty here to enjoy. Chu choreographs vivid action scenes, he injects humor seamlessly into dialogue, and he makes the world-building fun. Chu had all of history at his disposal, after all, and he took full advantage.
---