Future Treasures: Nebula Awards Showcase 2014, edited by Kij Johnson
Future Treasures: Nebula Awards Showcase 2014, edited by Kij Johnson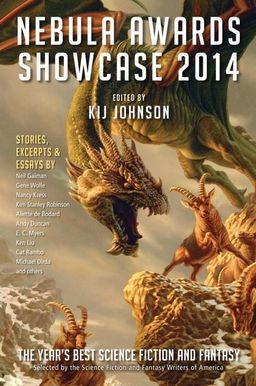 I love the Nebula Awards Showcase volumes. For one thing, they have a glorious history — stretching all the way back to the very first volume in 1966, edited by the founder of SFWA himself, Damon Knight.
And for another thing… they include some damn good stories. The Nebula Award winning short fiction from the previous year (and as many nominees as will fit), as chosen by the members of Science Fiction Writers of America. Alongside those stories are excerpts from the award-winning novel; appreciations of this year's Grand Master Winner, Gene Wolfe, by Neil Gaiman and Michael Dirda, a Wolfe story, and more. If you're looking for a survey of the best in SF and fantasy from last year, you'd be hard pressed to do better than this.
The Nebula Awards Showcase volumes have been published annually since 1966, reprinting the winning and nominated stories in the Nebula Awards, voted on by the members of the Science Fiction & Fantasy Writers of America . The editor selected by SFWA's anthology committee (chaired by Mike Resnick) is American fantasy writer Kij Johnson, author of three novels and associate director of the Center for the Study of Science Fiction at the University of Kansas.

This year's Nebula winners, and expected contributors, are Kim Stanley Robinson, Nancy Kress, Andy Duncan, and Aliette de Bodard, with E.C. Myers winning the Andre Norton Award for Young Adult Science Fiction and Fantasy Book.
Nebula Awards Showcase 2014 is edited by Kij Johnson and will be published on May 13, 2014 by Pyr. It is 291 pages, priced at $18 in trade paperback and $11.99 for the digital edition. New publisher Pyr has put together a handsome package for the book, with a colorful cover by Raoul Vitale. Keep an eye out for it — and don't forget to have a look at the 2013 Nebula Award Nominations, announced earlier this week.