You Say Acolyte, I Say Assassin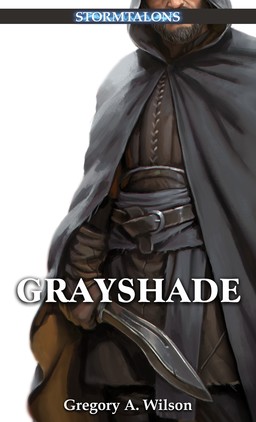 Stormtalons 02: Grayshade
by Gregory A. Wilson
The Ed Greenwood Group ($9.99 CAN digital, released September 30; $49.99 CAN hardcover, January 1, 2017)
Website
Servants of Argoth maintain balance in the world by meting out justice; sometimes, that justice can only be obtained through death. That's where the Acolytes — some call them assassins — come in. Grayshade and his brethren receive assignments from Father Jant, the head of the order, who is guided by Argoth's will.
When Grayshade receives an assignment to kill Lady Ashenza, a member of the government of Cohrelle, he accepts it as a matter of course. Being a power broker in the local government isn't why she's been marked for a hit, however. She's also rumored to be a part of the Vraevre, a religious sect that in recent weeks has begun to assassinate Cohrelle political figures. In order to restore balance, she must die, and Grayshade is sent to do his duty.
However, when he enters her room, Lady Ashenza tells Grayshade that she isn't a threat to him or his order; no, the real threat is the Order of Argoth itself. While this gives Grayshade pause, he does complete his mission. During his exit, he spots another Acolyte near the Ashenza home, and he soon realizes the evening's events are more complicated than they appear. Before long he questions everything he's ever been taught, and soon realizes he can only trust himself.
Grayshade by Gregory A. Wilson has everything I love in a fantasy novel: a fully-realized setting, complex characters with hidden motivations, political intrigue, and a touch of humor. As I read, I felt the clay-tiled rooftops beneath my feet and smelled the stench of garbage in alleyways. By the end of the first few chapters, Cohrelle felt very much like a real city with a life of its own.