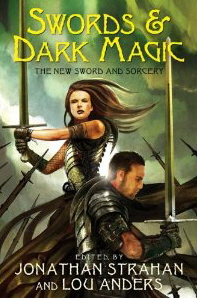 It isn't often we see a new Sword & Sorcery anthology, especially one from a major publisher.
Swords & Dark Magic: The New Sword & Sorcery, edited by Jonathan Strahan & Lou Anders (Eos Books/Subterranean Press) is the first one to cross my desk in years and, with a new Elric tale by Michael Moorcock, a Black Company story by Glen Cook, a Majipoor piece from Robert Silverberg, a Cugel the Clever tale by Michael Shea, and contributions from Steven Erikson,  James Enge, Joe Abercrombie, Tanith Lee, Garth Nix, C.J. Cherryh, Greg Keyes, Gene Wolfe, Tim Lebbon, Caitlín R. Kiernan, and many others, it looks like the real deal.
But do Strahan and Anders deliver real Sword & Sorcery, or just a close approximation?
To answer that we recruited Jason M. Waltz, publisher of Rogue Blades Entertainment, editor of the acclaimed anthologies Rage of the Behemoth and Return of the Sword, and true expert in heroic adventure.
His 6,000-word analysis, liberally spiced with his own thoughts on the state of the genre, begins after the jump.
---