Goodbye Realms of Fantasy — Again?
Goodbye Realms of Fantasy — Again?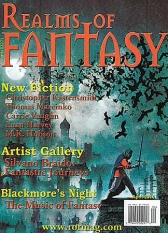 Reports have surfaced that Realms of Fantasy publisher Warren Lapine has written to subscribers of the magazine, telling them that if they don't renew their subscriptions he's going to shut it down.
Warren rescued Realms just last year, when his Tir Na Nog Press purchased it with much fanfare from Sovereign Media, who had announced that April 2009 would be the final issue. Tir Na Nog's first issue was July 2009, and the magazine has continued with renewed vigor ever since — publishing new fiction from Euan Harvey, Bruce Holland Rogers, Richard Parks, Harlan Ellison, Carrie Vaughn, and many more.
Perhaps not surprisingly, Warren's complaints stem from his obvious disappointment that so many fans were highly vocal about the pending loss of the magazine last year, and yet so few are willing to put their money where their mouth is.
However, as author and subscriber Mishell Baker so eloquently puts it, "Why should I send my money to a guy who's telling me there may not be a magazine by the time he cashes my check?"
Warren clarified his position to Baker in a follow up post at The Dreaded Sword:
I think your missing the point of the letter. The magazine isn't quite making enough money to go on as things stand right now. It was close down the magazine now, or send the letter. So saying that I shouldn't have sent the letter suggests that I should have just shut down the magazine and not given it's readers a heads up before closing it. Fortunately, your reaction to our letter is not the norm. Many people have a larger sense of community than you are displaying here and I expect this to save the magazine.
Realms of Fantasy is one of the few remaining professional fantasy magazines, and well worth your support.  You can purchase a subscription here.