Luke Reviews looks at Black Gate 14
Luke Reviews looks at Black Gate 14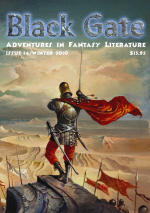 Luke Forney. who reviewed Black Gate 13 last year, digs into our latest issue with part one of a three-part review:
You would be hard-pressed to find a fantasy magazine out there better than Black Gate. It is a solid magazine with good content, and very much worth the entry fee. Issue 14… is a behemoth. Gigantic doesn't begin to describe it.
Just as he was last issue, Luke is taken with the latest adventures of Brand the Viking in "The Bonestealer's Mirror" by John C. Hocking:
Brand the Viking, along with his companions, stop to investigate a signal fire, only to find a town beset by a terrible creature that steals the bones from its victims' bodies. Hocking proves, yet again, to be a top-notch storyteller worthy of the mantle of the next Robert E. Howard, yet he fills his tales with a sterling originality that would be done a gross disservice by labeling it anything other than purely Hocking. The plot, the characters, the setting: all are wonderful, and a joy to explore. The day a collection of Hocking's Brand stories comes out is the day I wait in line to buy a copy.
As well as "The Word of Azrael" by Matthew David Surridge:
This tale of a man on a lifelong quest in search of the angel of death grasps the moody, mystical quality of both dream and myth, and weaves it throughout. The story carries you along without effort, and is certainly wonderful to read.
And Rich Horton's lengthy non-fiction piece "Back to the Future: Modern Reprints of Classic Fantasy":
A wonderful essay from a man entrenched in the genre, Horton explores host of publishers who are bringing back some unjustly forgotten classics. While most will be familiar with some of these, few will be familiar with all, and the essay brings up both authors and books that I will be keeping an eye out for. A wonderful essay.
You can find Part One of the complete review here.