New Review of Black Gate 13
New Review of Black Gate 13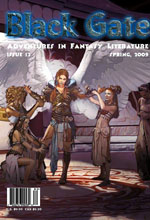 Luke Forney reviews the latest issue of Black Gate at his blog.
Black Gate kept my attention far better than any other fiction magazine… Almost all of the stories I found immediately wonderful, engaging, and very easy to lose oneself in. The quality was beyond impressive, and the extras (reviews sections) were brilliant.
Luke compares John C. Hocking to Robert E. Howard:
"The Face in the Sea" by John C. Hocking: This wonderful story tells of Viking-like people returning from a raid on their enemy's stronghold to recover their princess, and one shaman's all-out assault to stop them. A very well told story, reminiscent of Robert E. Howard. I'll be looking for more by Hocking.
And was equally impressed by L. Blunt Jackson:
"Spider Friend" by L. Blunt Jackson: A brilliant fable-like tale, with an ending that I didn't see coming, but that didn't interrupt the wonderful style that Jackson worked throughout. One of the best "modern fables" I have read.
He also comments favorably on our non-fiction:
This issue also contained a number of comic strips, and two brilliant review sections. I have never seen a magazine have such a detailed, extensive reviews section that covered so many books. It was a wonderful surprise… The fiction reviews section was lovely, and covered far more than the large press magazines do.
He closes with a fine suggestion: 
Anyone who is a fan of adventure or fantasy should immediately check out Black Gate…  it contains a LOT of content (224 pages, full magazine size, not digest), good stories, interesting essays, wonderful departments, even an illustration for each story, which is a feature sadly missing in most other magazines. Grab issue 13 while you can, and keep your eyes peeled for the next issue!
You can read the complete review here.