Short Fiction Review #18: Paradox-Final Issue
Short Fiction Review #18: Paradox-Final Issue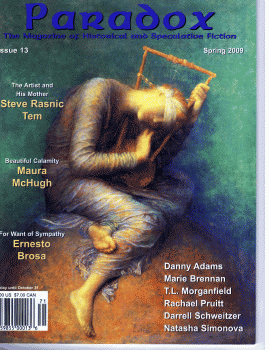 It's nothing new to hear that yet another print publication has gone the way of the dinosaurs.  Still, for those of us who retain affection for inked dead trees, it's always a cheerless day to learn of yet another comet strike.
The latest victim is Paradox, Editor/Publisher Christopher Cevasco's biannual magazine of  historical speculative fiction, which is now, well, history. After thirteen issues (read into the significance of the number what you will), Cevasco has retired the magazine effective with the Spring 2009 edition. Although he hints that an on-line version may arise from the ashes at some point, or that there may be a future Paradox-themed anthology, it would appear this is not going to be a Lance Armstrong/Bret Favre kind of retirement – Cevasco seems pretty adamant that this is it for the magazine.
The fiction here ranges from alt-history to fantasy that just happens to be set in an identifiable historical period to fable to what for a lack of a better term might be called literary historical fiction (meaning set in an historical period, but without altering recorded events and without any blatant fantastical elements).  There's also a couple of poems by Darrell Schweitzer dealing with the inevitable reversals of military conquest that have less to do with the stars than men, and Rachel Pruitt delivers a nice depiction of the aged and hardened warrior who is long tired of his trade, but is unable to do anything else.
Marie Brennan explains why  Lot's Wife turned back to look in "Salt Feels No Pain," that takes about a minute to read, put makes its point in a way not likely to be taught in Sunday School. "The Artist and His Mother" by Steve Rasnic Tem may be based on an actual Korean artist who departed from Chinese academic standards, but otherwise this is fabulism. The only thing historical about Maura McHugh's "Beautiful Calamity" is that it's set in a beatnick hangout in the Village with an obvious plotline about following your muse, though the atmospherics are nicely drawn. "The Last Voyage" by Natasha Siminova  tried my patience in getting the voyage to conclude; it's a tale of a young apprentice who ships with a crew of warriors past their prime in an attempt to fulfill one last mission and, well, you sort of know how that's going to unfurl.
I'm not an aficionado of   "What if the South had won the Civil War" themes generally; I think for the most part you've got to really know the period to get the "inside jokes" about different paths taken in this alternate reality. So, "Like a Stone Wall" by Danny Adams might be better appreciated by others.  In this case, the Southern general who got his nickname for standing in battle like a stone wall didn't perish in the war that his side didn't actually win. Instead, the North sees this highly religious, albeit ruthless, leader as the means to finally end slavery, an institution Thomas Jackson despises even while upholding the government that protects it. Whether the depiction of Jackson is accurate, I don't know, though I assume it is. Regardless, Adams does provide enough plot twists about Jackson's motivations in dealing with North to keep it interesting, even if you don't really know the history.
The standouts are"For Want of Sympathy" by Ernesto Brosa and "The Place that Makes You Happiest" by T.L. Morganfield. The first is a gothic tale in the tradition of Nathaniel Hawthorne; in fact, Hawthorne is the unrequited love interest of the unhappy protagonist, Martha, a school teacher trapped  by her family and her social status. When she fails at an Ophelia-style suicide, Martha believes her seeming secret rescuer was Hawthorne. Disappointment enuses. Here's a little flavor of the atmospherics:
Martha had often looked upon certain Concordians as being schooled in deviltry. How they mistreated her, all of them: her pupils slamming their books or stomping their feet or sneezing disingenuously or blinking their eyes incessantly as they chattered  their teeth, anything to disturb the lesson or make Martha nervous; the old Missus from the general store cheating at weights, rates, and measures; the farm boys whipping Martha with willowy branches and taunting, "If you be so learnt, why'd htey throw you out of the academy?"…They all, all of them, made Martha feel like the moon — bright, small and far away.
Morganfield's story is another "what if," but one I found more intriguing than Civil War enactment.  Here the "what if" is how might modern society evolved had the Aztecs not been conquered by Spain and remained the prevailing culture. Before embarking on  a mission to Mars, the protagonist recounts her return to her home and her cancer-ridden childhood chum, from whom she has up until now concealed her true feelings. While an alternate history, the pain of sacrifice — and redemption — is as true in our timeline.
You can still order copies online at  the Paradox website, so do your bit to make sure some history doesn't get completely lost.
We previously covered Paradox magazine with issue #10.