Everett F Bleiler, April 30, 1920 – June 13, 2010
Everett F Bleiler, April 30, 1920 – June 13, 2010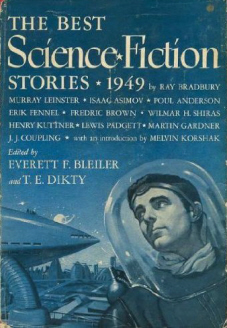 Everett F. Bleiler, one of the most accomplished early anthologists of science fiction and fantasy, passed away this week in Ithaca, NY.
Bleiler created the tradition of "Year's Best Science Fiction" anthologies with his co-editor, T.E. Dikty, starting with The Best Science Fiction Stories: 1949. He continued the series until 1954, producing a series of volumes that are highly collectible — and still very readable — today. Since the mid-1950s, few years have passed without at least one anthologist following in Bleiler's footsteps with a "Year's Best Science Fiction" anthology.
He produced dozens of highly-regarded anthologies, collections, and nonfiction books on all aspects of science fiction and fantasy between 1948 and 1998, including the Checklist of Fantastic Literature (1948), Imagination Unlimited (with T. E. Dikty, 1952), A Treasury of Victorian Detective Stories (1979), and A Treasury of Victorian Ghost Stories (1981).
Two of his detailed retrospectives of early science fiction, Science-Fiction: The Early Years (1990) and Science-Fiction: The Gernsback Years (1998), were nominated for the Hugo Award.
Bleiler received the World Fantasy Award for Life Achievement in 1988, the First Fandom Hall of Fame award in 1994, and the International Horror Guild Living Legend award in 2004.
On a personal note, I've spent many hours curled up with Bleiler's volumes, especially his Best Science Fiction Stories and the massive The Gernsback Years, which details every science fiction story published in Gernsback's Amazing Stories and Science Wonder.  The field has lost one of its finest editors and one of its leading scholars.