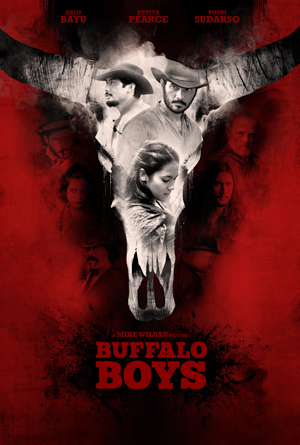 Before writing about the movies I saw during the last weekdays of the Fantasia festival, I'm going to skip back to the beginning to write about some films I watched before attending my first screening this year with a general audience. At a festival with 130 movies, most of which are shown in a theatre once or maybe twice, one has to make some hard choices about which to see. Fortunately, Fantasia's screening room gives harried film critics the chance to catch some of the movies they have to miss in theatres due to one scheduling exigency or another. I passed by on the first day of the festival, and found that this year the screening room offered curtained cubicles and a healthy selection of films. Among them was an Indonesian western named Buffalo Boys, an experimental German horror film called Luz, and a transgressive French animated webseries titled Crisis Jung.
The festival hosted the world premiere of Mike Wiluan's Buffalo Boys, but, knowing I'd miss its theatrical showing, it became the first film I saw in the screening room. Directed by Wiluan from a script by Raymond Lee, Rayya Makarim, and Wiluan, it's an Indonesian take on the Western genre. In the 19th century, the Dutch attempt to consolidate control of Indonesia; a Dutch agent murders a rebellious sultan, but the sultan's brother and infant sons escape. Decades later, as they travel the American west, the sultan's brother, Arana (Tio Pakusadewo), decides it's time for them to return to Java so that his brother's sons can seek justice for their father. The elder son, Jamar (Ario Bayu), has grown into a strong man, skilled in hand-to-hand fighting; his brother, Suwo (Yoshi Sudarso), is less confrontational but more charismatic — and good with a knife. The three of them make their way to the territory now ruled by the tyrannical Dutchman Van Trach (Reinout Bussemaker), where they stop an attempted robbery and become involved with the daughters of a local chief, all of whom are threatened by Van Trach's machinations.
The movie opens by noting that "this is one story where fact and fiction collide," and ends with a character observing that "when legends are born they never die." This is a film conscious not only of its genre, but of the mythic underpinnings that give the genre strength. The paraphernalia of the western film's used well: twanging guitars on the soundtrack, lens flares, gunfights, conversations around a campfire at night. But it's fused with the martial-arts action movie: fights are a whirl of punches, kicks, knife strikes — and then, where logical and necessary, gunplay. One scene in the middle of the film, in a saloon, brings home the way the movie at its best fuses different cinematic traditions of action and stylised violence.
---