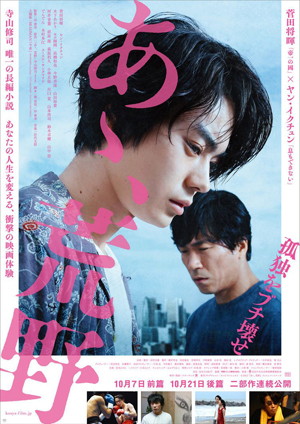 I like to make out a rough schedule for Fantasia well ahead of time. But things always change. You hear things about movies as the festival goes on. What seems important a few days out seems less important in the moment. And then some choices are just hard to make. On Sunday July 22 I had one of those tough choices, which I'll walk through here for the sake of recreating a bit of the subjective experience of Fantasia.
The Hall Theatre would host Our House, a science-fictional horror film, at 4:45. Then The Witch: Part 1. The Subversion, an action-superhero film, at 6:45; then I Am A Hero, a Japanese zombie film, at 9:15. On the other hand, starting at 4:20, the J.A. De Sève would host a five-hour-plus screening of a near-future boxing story called Wilderness, a two-film series playing here back-to-back with a brief intermission between the two parts. That would be followed by a science-fictional suspense film called Parallel at 9:45.
I was initially planning to stick with the movies at the Hall. Then I began to reconsider. The Witch and Hero had second screenings. Parallel did not. That meant it made more sense to watch that one, and catch Hero on its second screening on the 23rd. Witch had a question-and-answer session afterward, which I wouldn't get at the second screening. But I found myself intensely curious about Wilderness. It was a bold programming choice to schedule a five-hour block. And I wondered how its setting would inform its story; it was adapted from a novel written and set in the 1960s. I decided at the last minute to choose Wilderness over Our House. I missed what I later learned was a touching question-and-answer session, where the lead of The Witch was surprised with the festival's award for Best Actress. But in terms of the movies I ended up seeing, I was quite pleased.
Wilderness (Ah, kôya, あゝ、荒野) was directed by Yoshiyuki Kishi and written by Takehiko Minato based on the novel by Shuji Terayama. Terayama's Ah, kôya was published as a serial in 1965, and in one volume the year after; the film's set in 2021, imagining a near future filled with social unrest. As the government mulls over legislation imposing a kind of conscription on Japan's youth, and the numbers of suicides spike upward, two different men are drawn to take up boxing. One, Shinji (Masaki Suda, who voiced the lead in Fireworks and appeared in Gintama, Death Note: Light Up the New World, and the Assassination Classroom movies), is looking for revenge on a former friend, Yuji, who himself has taken up boxing. The other, the introverted stuttering Kenji (Ik-joon Yang), finds boxing is simply something he can do, something in which he can take confidence, something that might help him stand up to his abusive father. Both men are trained by gym owner Horiguchi (Yûsuke Santamaria, the voice of Hideo in Giovanni's Island) as they learn how to box and go pro. A subplot sees a group of college activists planing an art project about the rise of suicides across the country.
---