Andrew Liptak on 18 Science Fiction and Fantasy Books to Read this January
Andrew Liptak on 18 Science Fiction and Fantasy Books to Read this January
Holy cats, it's the last few hours of January. I'm already a month behind on my 2018 reading plan. How the heck did that happen??
In cases like this I've learned (through long experience) that it's best to distract myself with books until the problem goes away. To do that I turn to the always reliable Andrew Liptak at The Verge, and his monthly recommended reading column. Let's dig in and see what Andrew has for us this month.
First up is the debut novel from Michael Moreci, author of the comic series Roche Limit and Burning Fields. Kirkus Reviews calls Black Star Renegades "A propulsive space opera that is also an unapologetic love letter to Star Wars… Impossible not to love."
Black Star Renegades by Michael Moreci (St. Martin's Press, 384 pages, $27.99 in hardcover, January 2, 2018)
A young man named Cade Sura reluctantly controls the most powerful weapon in the galaxy, and it puts him into the path of the evil Praxis Kingdom. Michael Moreci is known for his comic books, but his debut novel is a mashup of familiar tropes from space operas like Star Wars and Guardians of the Galaxy. Kirkus Reviews says that he's assembled all of these tropes "with such devotion and style that it's impossible not to love this strange mashup for its own sake."
[Click the images for bigger versions.]
Apart in the Dark: Novellas by Ania Ahlborn (Gallery Books, 384 pages, $16, January 16, 2018)
If you're looking for a pair of shorter reads, Ania Ahlborn's new book is a pair of supernatural novellas, The Pretty Ones and I Call Upon Thee. In the first, New York City is gripped with fear in the midst of the Son of Sam murders, and when her best friend is murdered, Nell Sullivan knows that there's something else responsible. In the other, Maggie Olsen spent her childhood stalked by a shadow, and years later, she's forced to return home to confront her past.
Ania Ahlborn is also the author of Seed (47North, 2012) and The Neighbors (Thomas & Mercer, 2012).
Frankenstein in Baghdad by Ahmed Saadawi, translated by Jonathan Wright (Penguin Books, 288 pages, $16, January 23, 2018)
Originally published in 2013, the book earned Iraqi author Ahmed Saaadawi the 2014 International Prize for Arabic Fiction. The book is set in the aftermath of the US invasion, and a scavenger named Hadi collects body parts to assemble into a full body and tries to get the government to give them a proper burial. But the body (which Hadi calls "Whatsitsname") goes missing and causes a string of brutal murders, he realizes that he's created a real monster. Publisher's Weekly says that the book is a "harrowing and affecting look at the day-to-day life of war-torn Iraq."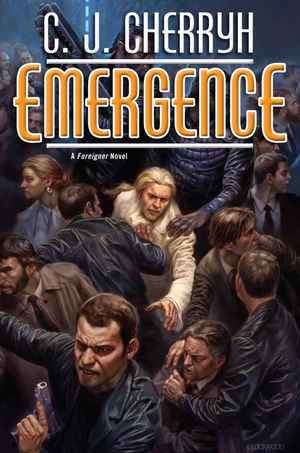 CJ Cherryh is someone whose back catalog I've wanted to explore for a very long time. Her acclaimed Foreigner series, which began in 1994 with Foreigner, looks like a great place to start. The 19th novel in the series was published earlier this month.
Emergence by CJ Cherryh (DAW, 336 pages, $26 in hardcover, January 2, 2018)
CJ Cherryh is one of the modern titans of science fiction literature, known in part for her long-running Foreigner series, which follows the descendants of a lost starship. Emergence marks the 19th entry in the series, and begins a new adventure for a human diplomat named Bren Cameron, who is working to broker peace between human refugees of Alpha Station and the atevi, whose world they're orbiting.
Read Andrew's complete list of 18 Science Fiction and Fantasy Books to read this January here.
Some of Andrew's more interesting recent articles include:
Kirkus Looks at Astounding Science Fiction
Kirkus Looks at Galaxy Science Fiction
Kirkus Looks at Donald A. Wollheim and the Ace Double
Kirkus Looks at The Meteoric Rise and Fall of Gnome Press
Kirkus Looks at Andre Norton's Young Adult Novels
Kirkus Looks at The Science Fiction Hall of Fame, Volumes I – IV
Andrew Liptak on All the Best SF and Fantasy You Missed in August
Andrew Liptak Selects the Best Science Fiction and Fantasy Novels of 2016
Andrew Liptak on 16 SF and Fantasy Novels You Don't Want to Miss in January
Andrew Liptak on 33 SF and Fantasy Books Everyone Will Be Talking About in 2017
Andrew Liptak on 23 Science Fiction and Fantasy Novels to Read this March
The Verge on 39 SF, Fantasy, and Horror Novels to Read in April
Andrew Liptak on 39 SF, Fantasy, and Horror Books to Read in June
Andrew Liptak on 16 SF, Fantasy, and Horror Books to Read in July
See all our coverage of the best upcoming books here.