Kirkus Looks at The Science Fiction Hall of Fame, Volumes I – IV
Kirkus Looks at The Science Fiction Hall of Fame, Volumes I – IV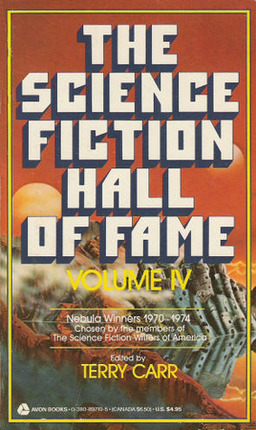 Over at Kirkus Reviews, Andrew Liptak continues his thorough and excellent survey of vintage science fiction with a look at one of the most important anthology series in the history of the genre: the four-volume Science Fiction Hall of Fame. Here he is on the first volume:
The book appeared as a hardcover in 1970 under the title The Science Fiction Hall of Fame, Volume One: The Greatest Science Fiction Stories of All Times, chosen by the members of the science fiction writers of America. Silverberg, in the introduction, described the anthology as "nearly definitive an anthology of modern science fiction stories as it likely to be compiled for quite some time." The book sold well, and sold out within a year. Doubleday sold the rights to Avon Books, which published a paperback edition in July 1971; it would go through dozens of printings in the coming decades. In 1971, it placed first in Locus' annual poll for best Anthology/Collection…
The Science Fiction Hall of Fame, Volumes 1 & 2, are perhaps the finest SF anthologies of the 20th Century and even today they serve as a superb introduction to the genre for modern readers. (The only comparable books I can think of are The Hugo Winners, Volumes I and II, edited by Isaac Asimov.) I dearly love my Avon paperback editions, which are sturdy and well-read.
Read the entire article here. Or have a look at some of Andrew's previous articles, including:
Kirkus Looks at Astounding Science Fiction
Kirkus Looks at Galaxy Science Fiction
Kirkus Looks at Donald A. Wollheim and the Ace Double
Kirkus Looks at The Meteoric Rise and Fall of Gnome Press
Kirkus Looks at Andre Norton's Young Adult Novels