New Treasures: The Volunteer by Peadar Ó Guilín
New Treasures: The Volunteer by Peadar Ó Guilín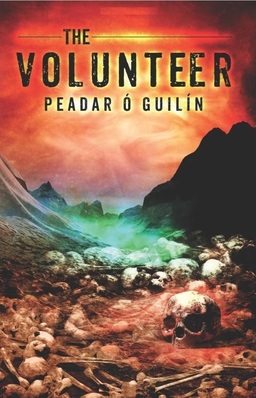 Peadar Ó Guilin's first novel, The Inferior, was published to wide acclaim in 2008. Bookfetish called it "Absolutely incredible… An exhilarating read, highly recommended and an incredible first novel in what is going to end up an incredible career." My son Tim devoured it in less than 24 hours and insisted I let him know the instant the sequel was available.
It took four long years, but The Deserter, the second novel in what's now known as The Bone World Trilogy, arrived in 2012. And now the concluding volume in the series is finally available. Thank God — maybe now Tim will finally stop pestering me.
Everyone in the human tribe of ManWays knows their world is about to end. They are shattered from the constant attacks of their enemies and even the Roof above their heads is on the verge of collapse. But just when their doom seems certain, word reaches them of a land free of all enemies. Humans are said to live there, but their leader is Stopmouth, the Chief's own brother and the vilest of traitors. Can Chief Wallbreaker lead his entire tribe across the wasteland the world has become? And will enough of them survive the journey to avenge themselves on the man who kidnapped his beloved wife, Indrani? The Volunteer is the thrilling conclusion to the story that began with The Inferior and continued with The Deserter. Praise for The Inferior:… "This is one of those 'aw-crap-I'm-gonna-be-reading-until-the-sun-comes-up' type of books." —The Book Smugglers
Peadar's most recent story for Black Gate was "The Dowry." He first appeared in the pages of our print version with "The Mourning Trees" (Black Gate 5), followed by "Where Beauty Lies in Wait" (BG 11) and "The Evil Eater" (BG 13), which Serial Distractions called "a lovely little bit of Lovecraftian horror that still haunts me to this day."
Peadar's most recent book was Forever in the Memory of God and Other Stories, which Sarah Avery called "old-school weird fiction, Clark Ashton Smith style."
The Volunteer was published on June 10, 2014. It is 296 pages, priced at $9.99 in trade paperback and $4.99 for the Kindle edition. Check it out — or start with the first two volumes, still available.