The Verge on 39 SF, Fantasy, and Horror Novels to Read in April
The Verge on 39 SF, Fantasy, and Horror Novels to Read in April
Here we are on the last day of April. Setting aside the obvious question How the heck did that happen so fast?, it's clear we need to take drastic action on our reading plan. We have about three weeks of reading to do and, uh, about two hours to do it in.
Well, best we use those last two hours productively. Over at The Verge, Andrew Liptak has some useful suggestions. Let's see what he has for us.
Brimstone by Cherie Priest (April 4th)

During the First World War, Tomás Cordero wielded a flamethrower, and left the battlefield a broken man. He discovers that his wife died of the flu, after returning home, and he's haunted by dreams of fire whenever he sleeps. In Cassadaga, Florida, Alice Dartle is a clairvoyant who also dreams of fire, and seeks out Cordero, trying to bring him some peace. However, the flames that bind them were started centuries ago, from someone whose hate extends beyond the grave.
[Click the images for bigger versions.]
Proof of Concept by Gwyneth Jones (April 11th)

In the future, on an overcrowded and polluted Earth, a government project has developed a technology that might spell out some hope for the human race: the ability to travel to other, habitable worlds. A woman named Kir is given a chance to join the team, because her brain is host to an artificial intelligence named Altair. Evolution has programmed Kir's brain to ignore theoretical dangers, and the Altair is going to have to convince his host that the future holds plenty of peril.

Forgotten Worlds by D. Nolan Clark (April 18)

In D. Nolan Clark's first novel, Forsaken Skies, an alien armada threatened Niraya. While Aleister Lanoe helped beat the enemy forces back, there are more ships on their way. Lanoe receives a message that could help. Equipped with a new ship, he's sent off to investigate, taking his crew into the depths of space to collect some new allies for the coming war.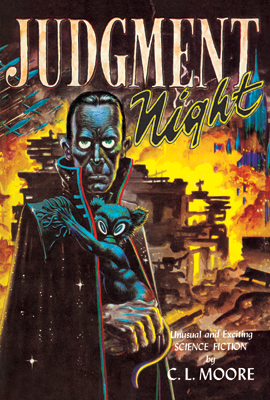 Read Andrew's complete article, 39 science fiction, fantasy, and horror novels to read this April, here.
Some of Andrew's more interesting recent articles include:
Kirkus Looks at Astounding Science Fiction
Kirkus Looks at Galaxy Science Fiction
Kirkus Looks at Donald A. Wollheim and the Ace Double
Kirkus Looks at The Meteoric Rise and Fall of Gnome Press
Kirkus Looks at Andre Norton's Young Adult Novels
Kirkus Looks at The Science Fiction Hall of Fame, Volumes I – IV
Andrew Liptak on All the Best SF and Fantasy You Missed in August
Andrew Liptak Selects the Best Science Fiction and Fantasy Novels of 2016
Andrew Liptak on 16 SF and Fantasy Novels You Don't Want to Miss in January
Andrew Liptak on 33 SF and Fantasy Books Everyone Will Be Talking About in 2017
Andrew Liptak on 23 Science Fiction and Fantasy Novels to Read this March
See all our recent New Treasures here.