April 2017 Lightspeed Magazine Now Available
April 2017 Lightspeed Magazine Now Available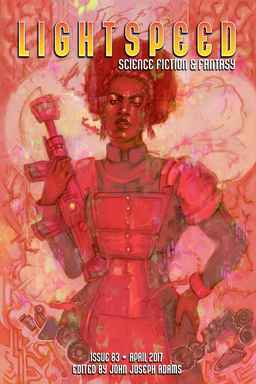 I've fallen into an odd routine with a few online fiction magazines. Instead of reading them as they come out, I hang out at Tangent Online and use their reviews to point me towards interesting stuff. It works out pretty well, and for the most part the TO reviewers keep on top of the flood of online fiction a lot better than I do. Victoria Silverwolf's review of the April issue of Lightspeed magazine appeared on Tuesday, and it's got several stories that sound right up my alley.
"Infinite Love Engine" by Joseph Allen Hill is a lightning-paced tale of a cyborg sent on a mission to save the universe from a thing which causes all lifeforms to love it. Along the way she encounters a wide variety of bizarre beings, from a dangerous "braincube" to a planet-sized entity known as the Drowning King. Narrated in a highly informal style, this wild and woolly space opera doesn't seem intended to be an out-and-out comedy, although it's hard to take it too seriously with characters called Beeblax and Zarzak…

Much more intimate is "Seven Permutations of My Daughter" by Lina Rather, although its scientific content is no less fantastic. The narrator is a physicist who has built a device which allows her to journey to parallel universes. For story purposes, this might as well be magic. She uses it in an attempt to find a world where her estranged, heroin-addicted daughter is safe and happy…

"Remote Presence" by Susan Palwick seems at first to take place in our own mundane reality. We soon find out, however, that the characters all accept the fact that ghosts are real, and that sometimes they must be helped — or forced — to move on to the next world. The protagonist is a hospital chaplain. In addition to his many other duties, he also has to deal with an elderly woman who has died in the emergency room and who continues to haunt it, only because she is lonely and wants someone to talk to….
Read Victoria's complete review of the April issue here.
This month's Lightspeed offers original fantasy by Susan Palwick and Jess Barber, and fantasy reprints by Genevieve Valentine and Charles Yu, and original science fiction by Joseph Allen Hill and Lina Rather, plus SF reprints by Paul Park and Nancy Kress. The non-fiction includes an editorial from John Joseph Adams, author spotlights, Book Reviews by Andrew Liptak, a review of Resident Evil: The Final Chapter by Carrie Vaughn, and an interview with Aliette de Bodard by Christian A. Coleman.
The exclusive content in the ebook version this month includes an exclusive reprint of Michelle West's novella "The Memory of Stone," and am excerpt from Skullsworn by Brian Staveley.
The cover this month is by Odera Igbokwe, illustrating "Infinite Love Engine" by Joseph Allen Hill. Here's the complete contents for the April issue.
Science Fiction
"Infinite Love Engine" by Joseph Allen Hill
"If Lions Could Speak: Imagining the Alien" by Paul Park (from If Lions Could Speak and Other Stories, 2002)
"Seven Permutations of My Daughter" by Lina Rather
"Someone to Watch Over Me" by Nancy Kress (from IEEE Spectrum, June 2014)
Fantasy
"Familiaris" by Genevieve Valentine (from The Starlit Wood, 2016)
"Remote Presence" by Susan Palwick
"Bookkeeper, Narrator, Gunslinger" by Charles Yu (from Dead Man's Hand, 2014)
"Maybe Look Up" by Jess Barber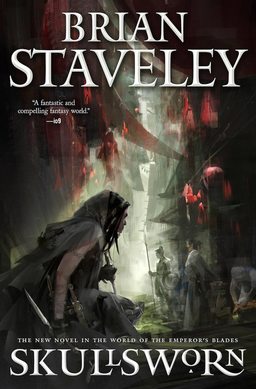 Nonfiction
Editorial, April 2017 by John Joseph Adams
Book Reviews: April 2017 by Andrew Liptak
Movie Review: April 2017 by Carrie Vaughn
Interview: Aliette de Bodard by Christian A. Coleman
Exclusive Paid Content
NOVELLA: The Memory of Stone" by Michelle West
AUTHOR SPOTLIGHT: Michelle West, by Robyn Lupo
EXCERPT: Skullsworn, by Brian Staveley
See the complete issue here.
Lightspeed is edited by John Joseph Adams. Most of the content is available free online; individual issues are available in multiple digital formats for $3.99. 6-month subscriptions are just $17.94 ($6 off the cover price), or $35.88 for 12 months ($12 off the cover price). Purchase copies and sample free content at the website.
We last covered Lightspeed with Issue 82, March 2017.
Check out Lightspeed's sister magazine Nightmare, also edited by John Joseph Adams.
See our April Fantasy Magazine Rack here, and all of our recent Magazine coverage here.