Future Treasures: Worlds Seen in Passing: Ten Years of Tor.com Short Fiction, edited by Irene Gallo
Future Treasures: Worlds Seen in Passing: Ten Years of Tor.com Short Fiction, edited by Irene Gallo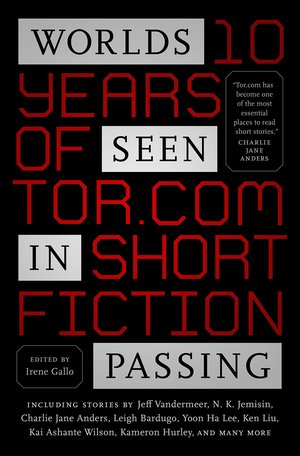 Tor.com is one of the finest genre websites on the planet. Originally created to promote Tor Books, it has taken on a very substantial life of its own, with news, art, commentary, thoughtful re-reads of many of my favorite novels (and more than a few that I've overlooked)… and especially fiction. It's become widely renowned for its top-notch fiction, from many of the biggest names in the genre.
How did it all start? Tor.com publisher Irene Gallo tells all in the Preface to Worlds Seen in Passing: Ten Years of Tor.com Short Fiction, a feast of a book collecting 40 of the best stories published at the site over the years.
Tor.com celebrated its tenth anniversary on July 20, 2018 — the forty-ninth anniversary of the first manned moon landing. It started out innocently enough. In 2006, our publisher, Fritz Foy, while attending the Tor Books holiday party, pulled Patrick and Theresa Nielsen Hayden and me aside and said he wanted to create "a river of conversation, art, and fiction" within the SF/F community — an online magazine that crossed the borders between publishers and media.

It took us a couple years to get off the ground. During that time, whenever we felt lost in the process, we'd come back to the word "genuine." We wanted to build a place that treated science fiction and fantasy (and related subjects) with gravitas and humor, a place to have fun without shying away from weightier, more thoughtful subjects. In short, we wanted to build a place where we wanted to hang out…

We knew from the start that fiction was always going to be at the heart of Tor.com. As publishers it made sense, but also… the entire site is dedicated to storytelling. Of course we wanted fiction to be our focal point. We have since published hundreds of original stories, along with art, reprints, comics, and poems — all of which are a source of pride for us, as well as bringing enjoyment to our readers.
This is a very substantial volume — 567 pages! — and it's packed with fiction from the best writers in the industry, including Kathleen Ann Goonan, Jeff VanderMeer, Leigh Bardugo, Lavie Tidhar, A.M. Dellamonica, Dale Bailey, Tina Connolly, Max Gladstone, Alyssa Wong, Genevieve Valentine, Kij Johnson, Mary Robinette Kowal, Rachel Swirsky, Ken Liu, Ruthanna Emrys, Isabel Yap, Helen Marshall, Pat Murphy, Kameron Hurley, Yoon Ha Lee, N. K. Jemisin, Carrie Vaughn, Charlie Jane Anders, and many, many others.
Here's the publisher's description.
Worlds Seen in Passing is an anthology of award-winning, eye-opening, genre-defining science fiction, fantasy, and horror from Tor.com's first ten years, edited by Irene Gallo.

Since it began in 2008, Tor.com has explored countless new worlds of fiction, delving into possible and impossible futures, alternate and intriguing pasts, and realms of fantasy previously unexplored. Its hundreds of remarkable stories span from science fiction to fantasy to horror, and everything in between. Now Tor.com is making some of those worlds available for the first time in print.

This volume collects some of the best short stories Tor.com has to offer, with Hugo and Nebula Award-winning short stories and novelettes chosen from all ten years of the program.
And here's the complete Table of Contents.
Preface, Irene Gallo
"Six Months, Three Days" by Charlie Jane Anders
"Damage" by David D. Levine
"The Best We Can" by Carrie Vaughn
"The City Born Great" by N. K. Jemisin
"A Vector Alphabet of Interstellar Travel" by Yoon Ha Lee
"Waiting on a Bright Moon" by JY Yang
"Elephants and Corpses" by Kameron Hurley
"About Fairies" by Pat Murphy
"The Hanging Game" by Helen Marshall
"The Water That Falls on You from Nowhere" by John Chu
"A Cup of Salt Tears" by Isabel Yap
"The Litany of Earth" by Ruthanna Emrys
"Brimstone and Marmalade" by Aaron Corwin
"Reborn" by Ken Liu
"Please Undo This Hurt" by Seth Dickinson
"The Language of Knives" by Haralambi Markov
"The Shape of My Name" by Nino Cipri
"Eros, Philia, Agape" by Rachel Swirsky
"The Lady Astronaut of Mars" by Mary Robinette Kowal
"Last Son of Tomorrow" by Greg van Eekhout
"Ponies" by Kij Johnson
"La beauté sans vertu" by Genevieve Valentine
"A Fist of Permutations in Lightning and Wildflowers" by Alyssa Wong
"A Kiss With Teeth" by Max Gladstone
"The Last Banquet of Temporal Confections" by Tina Connolly
"The End of the End of Everything" by Dale Bailey
"Breaking Water" by Indrapramit Das
"Your Orisons May Be Recorded" by Laurie Penny
"The Tallest Doll in New York City" by Maria Dahvana Headley
"The Cage" by A.M. Dellamonica
"In the Sight of Akresa" by Ray Wood
"Terminal" by Lavie Tidhar
"The Witch of Duva" by Leigh Bardugo
"Daughter of Necessity" by Marie Brennan
"Among the Thorns" by Veronica Schanoes
"These Deathless Bones" by Cassandra Khaw
"Mrs. Sorensen and the Sasquatch" by Kelly Barnhill
"This World Is Full of Monsters" by Jeff VanderMeer
"The Devil in America" by Kai Ashante Wilson
"A Short History of the Twentieth Century, or, When You Wish Upon A Star" by Kathleen Ann Goonan
Worlds Seen in Passing: Ten Years of Tor.com Short Fiction will be published by Tor.com on September 4, 2018. It is 576 pages, priced at $27.99 in hardcover and $14.99 for the digital edition.
See all our recent coverage of the best upcoming SF and Fantasy here.