Future Treasures: The Mammoth Book of the Mummy, edited by Paula Guran
Future Treasures: The Mammoth Book of the Mummy, edited by Paula Guran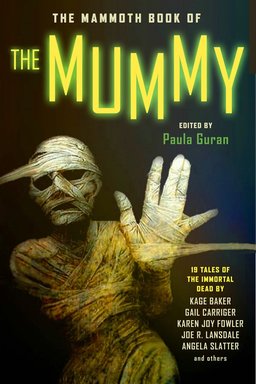 Paula Guran does interesting anthologies. She tends to focus on modern (21st Century) writers, which means she's plowing a different field than all those vintage anthologies I love — and introducing me to a host of new writers.
Her newest is The Mammoth Book of the Mummy, containing 25 new and reprint tales "that explore, subvert, and reinvent the mummy mythos" from Joe R. Lansdale, Kage Baker, Paul Cornell, Terry Dowling, Karen Joy Fowler, John Langan, Helen Marshall, Keith Taylor, and many others. It arrives from Prime Books in trade paperback next month.
Human mummies, preserved by both accident and intent, have been found on every continent except Antarctica. These enigmatic remains of humanity have fascinated people for centuries. Shrouded in history they have acquired meaning and symbolism quite separate from their value as a source of historic knowledge, inspiring tales of reanimation, reincarnation, loves that outlive death, and curses that bring vengeance from the past.

As a figure of the supernatural the mummy has attained iconic status in the popular imagination. The Mammoth Book of the Mummy presents a collection of tales written for the twenty-first century ― including four brand-new stories ― that explore, subvert, and reinvent the mummy mythos. Some delve into the past, others explore alternative histories, and some bring mummies into our own world. Within these covers lie stories of revenge, romance, monsters, and mayhem, ranging freely across time periods, genres, and styles sure to please both mummy-lovers and those less wrapped up in mummy lore.
I published one Mummy story in Black Gate, Dan Brodribb's hilarious "The Girl Who Feared Lightning" in BG 14 ("Nobody really talks about what mummies can and can't do. They never really caught on like some monsters did. Poor branding.") Here' hoping Paula's latest anthology will help mummies with that branding problem.
Here's the complete Table of Contents.
Reprints
Kage Baker, "The Queen in Yellow"
Gail Carriger, "The Curious Case of the Werewolf That Wasn't, the Mummy That Was, and the Cat in the Jar"
Paul Cornell, "Ramesses on the Frontier"
Terry Dowling, "The Shaddowes Box"
Carole Nelson Douglas, "Fruit of the Tomb"
Steve Duffy, "The Night Comes On"
Karen Joy Fowler, "Private Grave 9"
Will Hill, "Three Memories of Death"
John Langan, "On Skua Island"
Joe R. Lansdale, "Bubba-Ho-Tep"
Kim Newman, "Egyptian Avenue"
Norman Partridge, "The Mummy's Heart"
Adam Roberts, "Tollund"
Robert Sharp, "T "Egyptian Revival"
Keith Taylor, "Thehe Good Shabti"
Lois Tilton & Noreen Doyle, "The Chapter of Coming Forth by Night"
New
Stephen Graham Jones, "American Mummy"
Helen Marshall, "The Embalmer"
Anglea Slatter, Emerald Scarab"
Paula's other recent projects include:
The Life of a Reprint Anthologist: Paula Guran's Research Stack for the Upcoming Swords Against Darkness
The Mammoth Book of Cthulhu
Street Magicks
Warrior Women
The Year's Best Science Fiction & Fantasy Novellas: 2016
The Year's Best Science Fiction & Fantasy Novellas: 2015
Mermaids and Other Mysteries of the Deep
Blood Sisters
The Year's Best Dark Fantasy & Horror 2016
The Year's Best Dark Fantasy & Horror 2015
The Year's Best Dark Fantasy & Horror 2014
The Year's Best Dark Fantasy & Horror 2013
New Cthulhu 2
New Cthulhu: The Recent Weird
Weird Detectives
Season of Wonder
The Mammoth Book of the Mummy will be published by Prime Books on January 31, 2017. It is 480 pages, priced at $16.95 in trade paperback. Get more details at Paula's website here.
See all of our coverage of the best in upcoming fantasy books here.