Future Treasures: The Year's Best Dark Fantasy & Horror 2016, edited by Paula Guran
Future Treasures: The Year's Best Dark Fantasy & Horror 2016, edited by Paula Guran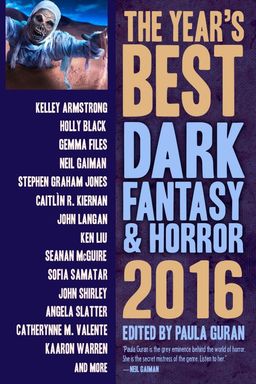 I really enjoy dark fantasy and horror, but my hands are full just keeping up with the latest fantasy magazines and anthologies. It's almost impossible to simultaneously stay on top of the excellent work being done in horror, in magazines like Sirenia Digest, Lackington's, The Dark, and Nightmare, and anthologies like Aickman's Heirs, Innsmouth Nightmares, Horrorology, Sing Me Your Scars, and many others.
That's why I'm so grateful to editor Paula Guran, whose excellent Year's Best Dark Fantasy & Horror volumes — published every year since 2010 — have guided me towards the writers and editors doing really exemplary work. I look forward to new editions every year, and this year's installment arrives in trade paperback from Prime Books next week.
Macabre meetings, sinister excursions, and deadly relationships; uncanny encounters; a classic ghost story featuring an American god; a historical murderer revived in a frightening new iteration; innovative Lovecraftian turns; shadowy fairy tales and weird myths; strange children, the unexpected, the supernatural, the surreal, and the all-too real… tales of the dark. Such stories have always fascinated us, and modern authors carry on the disquieting traditions of the past while inventing imaginative new ways to unsettle us. Chosen from a wide variety of venues, these stories are as eclectic and varied as shadows. This volume of 2015's best dark fantasy and horror offers more than 500 pages of tales from some of today's finest writers of the fantastique — sure to delight as well as disturb.
This year's volume contains 30 short stories by Kelley Armstrong, Dale Bailey, Gemma File, Neil Gaiman, John Langan, Ken Liu, Seanan McGuire, Kelly Robson, Sofia Samatar, John Shirley, Angela Slatter, Catherynne M. Valente, Damien Angelica Walters, Kai Ashante Wilson, and many others.
Here's the complete table of contents.
"The Door" by Kelley Armstrong (Led Astray: The Best of Kelley Armstrong, Tachyon)
"Snow" by Dale Bailey (Nightmare, June 2015)
"1Up" by Holly Black (Press Start to Play, ed. Adams, Vintage)
"Seven Minutes in Heaven" by Nadia Bulkin (Aickman's Heirs, ed. Strantzas, Undertow)
"The Glad Hosts" by Rebecca Campbell (Lackington's #7)
"Hairwork" by Gemma Files (She Walks in Shadows, eds. Moreno-Garcia & Stiles, Innsmouth Free Press)
"Black Dog" by Neil Gaiman (Trigger Warning: Short Fictions and Disturbances, William Morrow)
"A Shot of Salt Water" by Lisa L. Hannett (The Dark #8)
"The Scavenger's Nursery" by Maria Dahvana Headley (Shimmer # 24)
"Daniel's Theory About Dolls" by Stephen Graham Jones (The Doll Collection, ed. Datlow, Tor)
"The Cripple and Starfish" by Caítlin R. Kiernan (Sirenia Digest #108)
"The Absence of Words" by Swapna Kishore (Mythic Delirium #1.3)
"Corpsemouth" by John Langan (The Monstrous, ed. Datlow, Tachyon)
"Cassandra" by Ken Liu (Clarkesworld # 102)
"Street of the Dead House" by Robert Lopresti (nEvermore, ed. Kilpatrick, EDGE)
"Mary, Mary" by Kirstyn McDermott (Cranky Ladies of History, eds. Roberts & Wessely, Fablecroft)
"There is No Place for Sorrow in the Kingdom of the Cold" by Seanan McGuire (The Doll Collection, ed. Datlow, Tor)
"Below the Falls" by Daniel Mills (Nightscript 1, ed. Muller, Chthonic Matter)
"The Deepwater Bride" by Tamsyn Muir (F&SF Jul-Aug)
"The Greyness" by Kathryn Ptacek (Expiration Date, ed. Kilpatrick, EDGE)
"The Three Resurrections of Jessica Churchill" by Kelly Robson (Clarkesworld # 101)
"Those" by Sofia Samatar (Uncanny #3)
"Fabulous Beasts" by Priya Sharma (Tor.com)
"Windows Underwater" by John Shirley (Innsmouth Nightmares, ed. Gresh, PS Publishing)
"Ripper" by Angela Slatter (Horrorology, ed. Jones, Quercus)
"The Lily and the Horn" by Catherynne M. Valente (Fantasy #59)
"Sing Me Your Scars" by Damien Angelica Walters (Sing Me Your Scars, Apex)
"The Body Finder" by Kaaron Warren (Blurring the Line, ed. Young, Cohesion)
"The Devil Under the Maison Blue" by Michael Wehunt (The Dark #10)
"Kaiju maximus®: "So various, So Beautiful, So New" by Kai Ashante Wilson (Fantasy #59)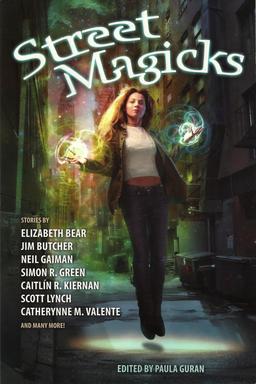 As usual, Paula Guran has been absurdly busy recently. Some of her recent anthologies include:
The Mammoth Book of Cthulhu
Street Magicks
Warrior Women
The Year's Best Science Fiction & Fantasy Novellas: 2016
The Year's Best Science Fiction & Fantasy Novellas: 2015
Mermaids and Other Mysteries of the Deep
Blood Sisters
The Year's Best Dark Fantasy & Horror 2015
The Year's Best Dark Fantasy & Horror 2014
The Year's Best Dark Fantasy & Horror 2013
New Cthulhu 2
New Cthulhu: The Recent Weird
Weird Detectives
Season of Wonder
The Year's Best Dark Fantasy & Horror 2016 will be published by Prime Books on July 12, 2016. It is 528 pages, priced at $19.95 in trade paperback and $6.99 for the digital edition. The cover art is by Andre Kiselev.
See all of our coverage of the best in upcoming fantasy books here.