October 2016 Lightspeed Magazine Now Available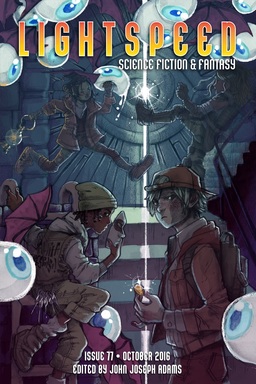 Jeremiah Tolbert has had a pretty impressive short fiction career — in the last few years he's been published in Asimov's SF, Giganotosaurus, Interzone, the sword & sorcery Cthulhu anthology Swords Vs Cthulhu, and other fine places. Some of you will also remember his very fine story in Black Gate 15, "Groob's Stupid Grubs." His latest tale for Lightspeed is "The Cavern of the Screaming Eye," a futuristic role-playing tale which he describes thusly:
The first in the Dungeonspace sequence of stories, "Cavern" involves the story of a boy struggling with the legacy of his dead brother, a great d-space crawler lost to one of the most deadly dungeon anomalies the City has ever seen – The Black Hole.

His mother will kill him if he takes up d-space adventuring – she can't bear to lose another son to the high-risk world of dungeon crawling. But an addiction to the thrill of adventure might just be in his blood, and now he find himself embroiled in the new kid's dungeoneering schemes. Will they survive… the Cavern of the Screaming Eyes?
Here's Charles Payseur's summary from Quick Sip Reviews.
This story imagines a future fantasy world where young people can enter into d-space, a sort of dungeon-crawling game, only one where the stakes are life and death. The main character, Ivan, has recently lost his brother to the game, a brother who was a hero to many but a terror to Ivan. His home life a mess, Ivan is surprised when a new kid at his school offers friendship and, more than that, an opportunity to get involved in dungeon delving… This also feels like the start or something larger, because the story introduces many things that don't exactly pay off. But it does create the sense of a larger world and a larger mystery which Ivan is just discovering, that will undoubtedly have huge implications for him, his family, and his new friends. It's an entertaining piece and light but with a lifting optimism and fun that makes it a pleasant read and a fine story!
Read Charles' complete review of the October issue here.
This month editor John Joseph Adams offers us original fantasy by Jeremiah Tolbert and Kat Howard, and fantasy reprints by Aliette de Bodard and Will Kaufman, plus original science fiction by Stephen S. Power and Mary Anne Mohanraj, along with SF reprints by Karen Joy Fowler and Fran Wilde.