Future Treasures: Swords v. Cthulhu: Swift Bladed Action in the Horrific World of H.P. Lovecraft, edited by Jesse Bullington and Molly Tanzer
Future Treasures: Swords v. Cthulhu: Swift Bladed Action in the Horrific World of H.P. Lovecraft, edited by Jesse Bullington and Molly Tanzer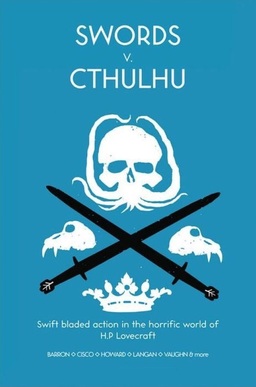 Are you a Lovecraft fan? Are you just a little bit tired of nodding to yourself at the 5-page mark at every tale, thinking, "Well, this is going to end horribly." And are you tired of being right every single time?
If you are, you're not alone. And editors Jesse Bullington (The Enterprise of Death) and Molly Tanzer (Vermilion) have the answer: Swords v Cthulhu, a collection of brand new sword & sorcery Mythos fiction by a stellar list of contributors — including Black Gate authors Jonathan L. Howard and Jeremiah Tolbert, plus Michael Cisco, John Hornor Jacobs, John Langan, E. Catherine Tobler, Carrie Vaughn, and many others — featuring stalwart adventurers squaring off against the greatest horrors of the Lovecraftian pantheon. Okay, sure, most of the tales within probably still end horribly. By at least the protagonists go down swinging!
What hope has a humble adventurer when faced with a fight against Cthulhu himself? No matter; the true swordsperson cares not for hope — only for the bite of steel against flesh, whether that flesh be eldritch or more conventional. So, grab your khukuri knife, your iklwa spear, or a legendary blade and journey with us from ancient Rome to feudal Japan, from the Dreamlands to lands there are no names for in any of the tongues of men.

If you have any doubts, inside this tome you can consult ask some of Lovecraftiana's hottest voices, be they seasoned veterans or relative newcomers… Hope be damned. Glory awaits!

Relentlessly hurtling you into madness and danger are: Natania Barron, Eneasz Brodski, Nathan Carson, Michael Cisco, Andrew S. Fuller, A. Scott Glancy, Orrin Grey, Jason Heller, Jonathan L. Howard, John Hornor Jacobs , John Langan, L. Lark, Remy Nakamura, Carlos Orsi, M. K. Sauer, Ben Stewart, E. Catherine Tobler, Jeremiah Tolbert, Laurie Tom, Carrie Vaughn, Wendy N. Wagner, and Caleb Wilson.
Swords v. Cthulhu: Swift Bladed Action in the Horrific World of H.P. Lovecraft will be published by Stone Skin Press on August 1, 2016. It is 368 pages, priced at $13.99 in paperback. No news yet on a separate digital edition. See more details at the Stone Skin website, including teaser excerpts from many of the stories.