New Treasures: The Enterprise of Death by Jesse Bullington
New Treasures: The Enterprise of Death by Jesse Bullington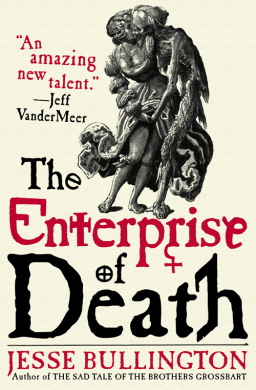 Jesse Bullington received a lot of attention for his first novel, the exceptionally dark fantasy The Sad Tale of the Brothers Grossbart, about which Booklist said, "Modeled after the grimmest of the Grimm tales, Bullington's debut… [is] aiming instead at gross-out horror fans."
That one seemed a bit too grim and gruesome for me. But Bullington's second novel, The Enterprise of Death, looks more my speed.
As the witch-pyres of the Spanish Inquisition blanket Renaissance Europe in a moral haze, a young African slave finds herself the unwilling apprentice of an ancient necromancer. Unfortunately, quitting his company proves even more hazardous than remaining his pupil when she is afflicted with a terrible curse. Yet salvation may lie in a mysterious tome her tutor has hidden somewhere on the war-torn continent.

She sets out on a seemingly impossible journey to find the book, never suspecting her fate is tied to three strangers: the artist Niklaus Manuel Deutsch, the alchemist Dr. Paracelsus, and a gun-slinging Dutch mercenary. As Manuel paints her macabre story on canvas, plank, and church wall, the young apprentice becomes increasingly aware that death might be the least of her concerns.
I've been watching the reviews, and they are very impressive indeed. The Wall Street Journal called it "Macabre, gruesome, foul-mouthed and much more complex than the usual vampire-and-zombie routine," and SF Revu said it was
Darkly comic… Bullington is one of those rare writers who come along once every so often with a truly original vision… this is an author capable of great and profound insight, often conveyed via his equally finely tuned sense of the ridiculous… Highly recommended.
The Enterprise of Death was published by Orbit in March, 2011. It is 464 pages in trade paperback, priced at $14.99 ($9.99 for the digital version). I bought my copy from Amazon as a bargain title for just six bucks.