Fantasia Diary 2015, Days 15 and 16: Minuscule, Observance, Boy 7, and Big Match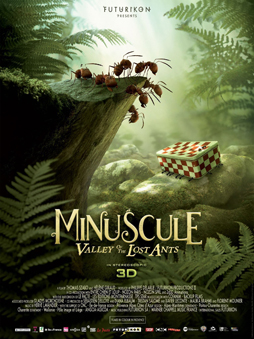 I took a day off from Fantasia on Tuesday, July 28, to run some errands and buy some groceries, then returned on Wednesday to begin a kind of mini-marathon that would carry me through to the end of the festival. I saw four movies Thursday, starting at the De Sève with a wordless 3D animated French film called Minuscule, about a ladybug who falls in with a group of ants who've liberated a box of sugar from an abandoned picnic. After that I went to the screening room to see an Australian horror-suspense movie called Observance. Then I went back to the De Sève for the semi-science-fictional German action movie Boy 7. After getting out of that one, I made a snap decision to run across the street to the Hall Theatre to watch the Korean action-comedy Big Match. Which turned out to be one of the better calls I made all festival.
Minuscule: La vallée des fourmis perdues (Minuscule: Valley of the Lost Ants) is a feature film version of a series of five-minute animated shorts made for French TV; in English, the Minuscule shorts are subtitled The Private Life of Insects. Both TV and film version follow CGI insects with real natural backgrounds. Both (apparently; I haven't seen the TV show) have a strong Looney Tunes feel.
Co-written and co-directed by Hélène Giraud and Thierry Szabo, Minuscule the movie follows a ladybug separated from his parents. Bullied by some flies, he joins forces with black ants who've found an unimaginable treasure: a tin box filled with sugar cubes, left behind by picnickers. The ladybug helps the ants get the sugar back to their queen, threatened not only by obstacles in the landscape but also by vicious red ants. But will the red ants give up the sugar, even if they succeed? In the end, the ladybug must summon his courage and push his limits to save his friends.