Future Treasures: The Sorcerer of the Wildeeps by Kai Ashante Wilson
Future Treasures: The Sorcerer of the Wildeeps by Kai Ashante Wilson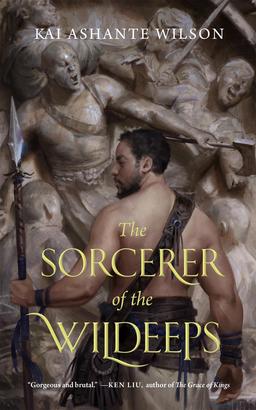 Tor has brought us some strong debuts over the past 18 months. Seth Dickinson's The Traitor Baru Cormorant, Marc Turner's When the Heavens Fall, and Rjurik Davidson's Unwrapped Sky have all made waves, and I expect to see great things from them in the future. It's great to see a publisher with such a keen eye for new talent.
Tor's latest find, Kai Ashante Wilson, releases his first fantasy novel next month: The Sorcerer of the Wildeeps, and it looks like one of their strongest discoveries yet. It's a sword & sorcery tale of gods and mortals, magic and steel, and life and death that Ken Liu calls "Lyrical and polyphonous, gorgeous and brutal."
Since leaving his homeland, the earthbound demigod Demane has been labeled a sorcerer. With his ancestors' artifacts in hand, the Sorcerer follows the Captain, a beautiful man with song for a voice and hair that drinks the sunlight.

The two of them are the descendants of the gods who abandoned the Earth for Heaven, and they will need all the gifts those divine ancestors left to them to keep their caravan brothers alive.

The one safe road between the northern oasis and southern kingdom is stalked by a necromantic terror. Demane may have to master his wild powers and trade humanity for godhood if he is to keep his brothers and his beloved captain alive.
Wilson has published several popular stories which you can read free at Tor.com, including "The Devil in America" and "Super Bass." Read an excerpt from The Sorcerer of the Wildeeps here.
See the complete list of Tor.com novellas we've covered so far below.
The Sorcerer of the Wildeeps by Kai Ashante Wilson
Witches of Lychford by Paul Cornell
Sunset Mantle by Alter S. Reiss
Binti by Nnedi Okorafor
The Last Witness by K. J. Parker
Of Sorrow and Such by Angela Slatter
Envy of Angels by Matt Wallace
The Builders by Daniel Polansky
Domnall and the Borrowed Child by Sylvia Spruck Wrigley
The Shootout Solution by Michael R. Underwood
The Drowning Eyes by Emily Foster
The Ballad of Black Tom by Victor LaValle
Check out the first ten Tor.com novellas (with sample chapters!) here, and see the complete line-up here.
The Sorcerer of the Wildeeps will be published by Tor Books on September 1, 2015. It is 224 pages, priced at $12.99 in paperback and just $2.99 for the digital edition. The cover is by Karla Ortiz.
See all of our recent New Treasures here.