Future Treasures: The Ballad of Black Tom by Victor LaValle
Future Treasures: The Ballad of Black Tom by Victor LaValle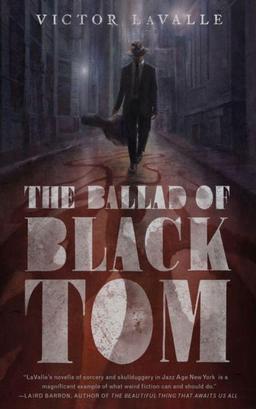 Tor.com's first book in their new premium novella line, Kai Ashante Wilson's The Sorcerer of the Wildeeps, made several Best of the Year lists for 2015. The publishing experiment has proven successful enough that Tor.com is continuing with more novellas in 2016, including Victor LaValle's The Ballad of Black Tom, a tale in the Cthulhu mythos set in Brooklyn and Harlem in the early 20th century.
Victor LaValle is the author of Big Machine (2010) and The Devil in Silver (2013). About Black Tom, Laird Barron says "LaValle's novella of sorcery and skullduggery in Jazz Age New York is a magnificent example of what weird fiction can and should do."
People move to New York looking for magic and nothing will convince them it isn't there.

Charles Thomas Tester hustles to put food on the table, keep the roof over his father's head, from Harlem to Flushing Meadows to Red Hook. He knows what magic a suit can cast, the invisibility a guitar case can provide, and the curse written on his skin that attracts the eye of wealthy white folks and their cops. But when he delivers an occult tome to a reclusive sorceress in the heart of Queens, Tom opens a door to a deeper realm of magic, and earns the attention of things best left sleeping.

A storm that might swallow the world is building in Brooklyn. Will Black Tom live to see it break?
See the complete list of Tor.com novellas we've covered so far below.
The Sorcerer of the Wildeeps by Kai Ashante Wilson
Witches of Lychford by Paul Cornell
Sunset Mantle by Alter S. Reiss
Binti by Nnedi Okorafor
The Last Witness by K. J. Parker
Of Sorrow and Such by Angela Slatter
Envy of Angels by Matt Wallace
The Builders by Daniel Polansky
Domnall and the Borrowed Child by Sylvia Spruck Wrigley
The Shootout Solution by Michael R. Underwood
The Drowning Eyes by Emily Foster
The Ballad of Black Tom by Victor LaValle
Check out the first ten Tor.com novellas (with sample chapters!) here, and see the complete line-up here.
The Ballad of Black Tom will be published by Tor.com on February 16, 2016. It is 152 pages, priced at $12.99 in trade paperback and $2.99 for the digital edition. The cover is by Robert Hunt.
See all of our recent Future Treasures here.