Future Treasures: Sunset Mantle by Alter S. Reiss
Future Treasures: Sunset Mantle by Alter S. Reiss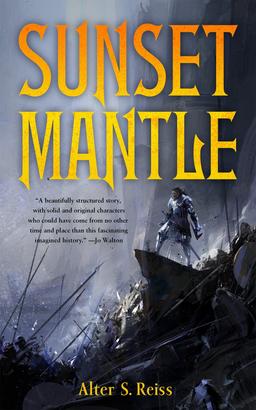 I've really been impressed with what I've seen of Tor.com's new line of novellas. There are ten on the schedule, from a diverse range of exciting authors — including Nnedi Okorafor, K. J. Parker, Daniel Polansky, and Michael R. Underwood — and they look terrific.
The first to go on sale will be Kai Ashante Wilson's debut, The Sorcerer of the Wildeeps, and Tor.com will publish roughly one a week through most of the fall. September 15th sees Alter S. Reiss' Sunset Mantle, the tale of an exiled warrior, and a doomed settlement called the Reach Antach…
With a single blow, Cete won both honor and exile from his last commander. Since then he has wandered, looking for a place to call home. The distant holdings of the Reach Antach offer shelter, but that promise has a price.

The Reach Antach is doomed.

Barbarians, traitors, and scheming investors conspire to destroy the burgeoning settlement. A wise man would move on, but Cete has found reason to stay. A blind weaver-woman and the beautiful sunset mantle lure the warrior to wager everything he has left on one final chance to turn back the hungry tides of war.
See the complete list of Tor.com novellas we've covered so far below.
The Sorcerer of the Wildeeps by Kai Ashante Wilson
Witches of Lychford by Paul Cornell
Sunset Mantle by Alter S. Reiss
Binti by Nnedi Okorafor
The Last Witness by K. J. Parker
Of Sorrow and Such by Angela Slatter
Envy of Angels by Matt Wallace
The Builders by Daniel Polansky
Domnall and the Borrowed Child by Sylvia Spruck Wrigley
The Shootout Solution by Michael R. Underwood
The Drowning Eyes by Emily Foster
The Ballad of Black Tom by Victor LaValle
Check out the first ten Tor.com novellas (with sample chapters!) here, and see the complete line-up here.
Sunset Mantle will be published by Tor.com on September 15, 2015. It is 192 pages, priced at $12.99 in trade paperback, and just $2.99 for the digital version. The cover is by Richard Anderson. Read a generous excerpt at Tor.com.
See all of our recent New Treasures here.