New Treasures: The Shootout Solution by Michael R. Underwood
New Treasures: The Shootout Solution by Michael R. Underwood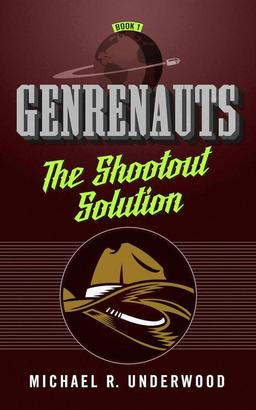 Michael R. Underwood's novel Shield and Crocus, set in a city built on the bones of a fallen giant and ruled by five criminal tyrants, had perhaps the most intriguing setting I came across last year. So I was delighted to see he was joining the stellar line-up at Tor.com with a new series, the Genrenauts. The first episode, The Shootout Solution, was published on November 17 as their tenth premium novella.
Leah Tang just died on stage.

Not literally.

Not yet.

Leah's stand-up career isn't going well. But she understands the power of fiction, and when she's offered employment with the mysterious Genrenauts Foundation, she soon discovers that literally dying on stage is a hazard of the job!

Her first job takes her to a Western world. When a cowboy tale slips off its rails, and the outlaws start to win, it's up to Leah — and the Genrenauts team — to nudge the story back on track and prevent major ripples on Earth.

But the story's hero isn't interested in winning, and the safety of Earth hangs in the balance…
See the complete list of Tor.com novellas we've covered so far below.
The Sorcerer of the Wildeeps by Kai Ashante Wilson
Witches of Lychford by Paul Cornell
Sunset Mantle by Alter S. Reiss
Binti by Nnedi Okorafor
The Last Witness by K. J. Parker
Of Sorrow and Such by Angela Slatter
Envy of Angels by Matt Wallace
The Builders by Daniel Polansky
Domnall and the Borrowed Child by Sylvia Spruck Wrigley
The Shootout Solution by Michael R. Underwood
The Drowning Eyes by Emily Foster
The Ballad of Black Tom by Victor LaValle
Check out the first ten Tor.com novellas (with sample chapters!) here, and see the complete line-up here.
The Shootout Solution: Genrenauts Episode 1 was published by Tor.com on November 17. It is 148 pages, priced at $12.99 in trade paperback and $2.99 for the digital edition. The book was designed by Peter Lutjen.
See all of our recent New Treasures here.