The Medieval Medina of Tetouan, Morocco
The Medieval Medina of Tetouan, Morocco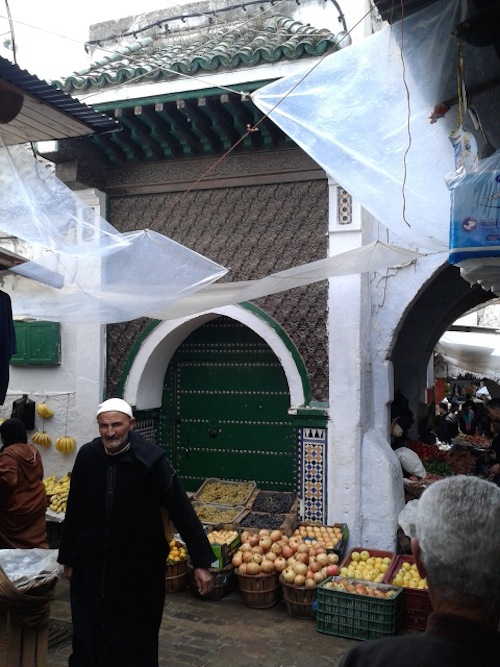 I've blogged previously here on Black Gate about spending some time living in Tangier, Morocco. The city is a good jumping off point to see northern Morocco, a region many visitors skip as they head down to Fez, the Atlas Mountains, and the southern casbahs. If they do that, they miss one of North Africa's best preserved medinas, the 15th century marketplace of Tetouan, now a UNESCO World Heritage Site.
Tetouan is located in the saddle of two clusters of hills. Home to about half a million people, it doesn't attract many foreign tourists and offers a look at an traditional medina and its market that have not felt the hand of international shoppers.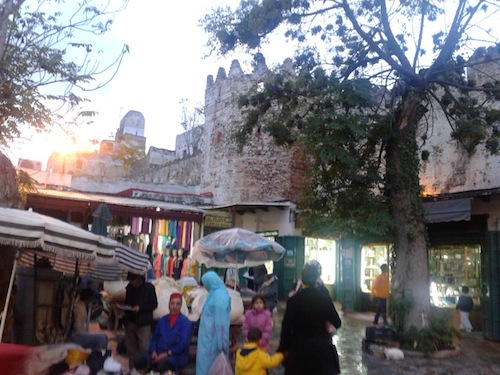 The city is newer than many in the region. While there was a Berber and later a Roman town only a few miles away, Tetouan proper wasn't founded until 1307. It quickly grew in importance thanks to its strategic location just east and a little south of the Strait of Gibraltar, and saw its golden age in the 14th century before being destroyed by the Spanish in 1399 because it was being used as a base for piracy. Ironically, it was rebuilt in the late 15th century by Muslims and Jews fleeing the Reconquista in Spain. Development was quick at first thanks to the town's many successful merchants, although the people had to endure several wars in Morocco's fiercely bellicose political climate.
It continued to be used as a base for pirates attacking the shipping through the Strait of Gibraltar and along the North African coast, and Spain used this as a pretext to take the city in 1860 and hold it for two years. It came under official Spanish rule in 1913 as part of an agreement with France dividing up the nation. Tetouan served as the capital of Spanish Morocco and it was from this city that General Franco declared his coup against Spain's Republican government in 1936, bringing on the Spanish Civil War. Tetouan remained the colonial capital until independence in 1956. As a final goodbye to the Spaniards, the king built one of his many royal palaces on the site of the former Spanish consulate.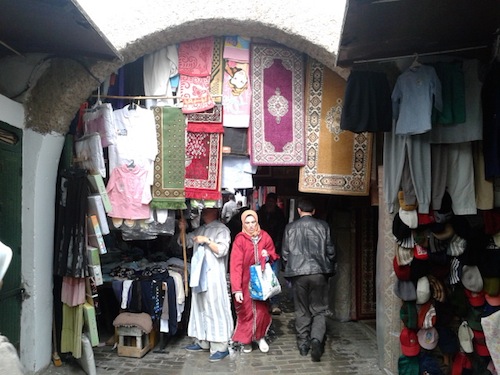 The palace juts against the walls of the medina, sitting right next to one of its main gates. Passing through that brings you into the labyrinthine alleyways of the old medieval quarter with its homes and shops. Many passageways are covered, and every now and then a home arches over the narrower streets. Some of the streets can get narrow enough that cats jump from one window ledge to another, and I found a side alley that I almost had to turn sideways to get through. Interspersed with the ground floor shops below residences are several mosques dating from the 16th century onwards, plus some shrines to local saints. Religious buildings stand out with their multicolored tiled arches, the minarets of the mosques reaching above the medina's shadowy tangle to catch the sunlight.
Or so I imagined. It rained most of the time I was there.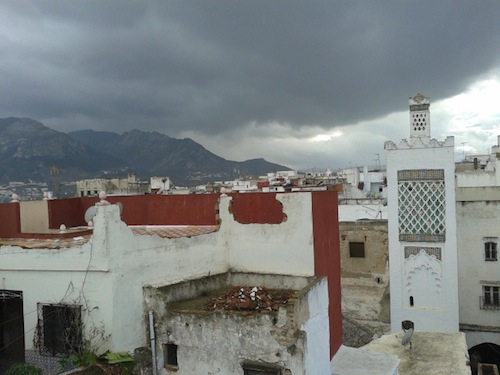 Like most traditional markets, trades cluster together. I've never gotten a satisfactory explanation for why all the sweet sellers need to be in a big long row on one of the wide streets, or why shoppers would prefer the majority of furniture stores to be in one part of town. I suppose it helps keep people of the same trade unite as a common interest group, but even after traveling for 25 years in the Middle East I still find it odd to see a street dedicated to selling rusty old tools,  or an entire plaza selling eyeglasses.
Then there were the strange combinations. The man selling bootleg video games beside a heap of onions. The old dolls scattered amid electronics parts. The guy going from table to table in the cafes selling snacks, his tray festooned with a jingling fringe of nail clippers.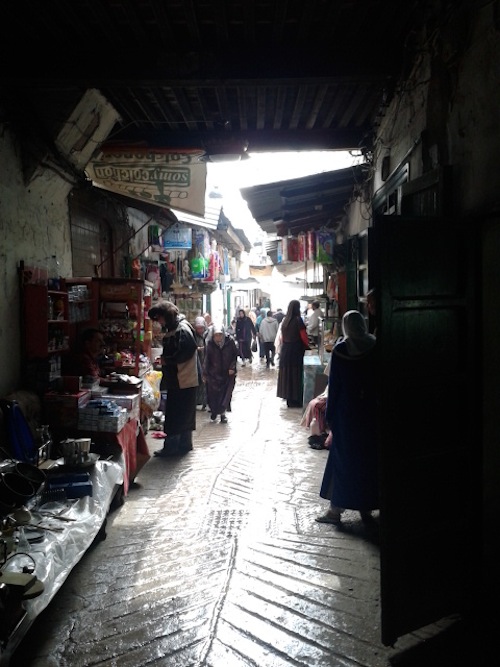 My gaze kept getting yanked from these sights by some unexpected beauty. Tetouan's importance meant that many fine mosques and madrasas were built within its walls. Like much of Islamic architecture, little can be seen from the outside except for an elaborate portal or a minaret decorated with intricate tile work. Sadly, the religious buildings were barred to me. Unlike many Muslim countries I've been to–Turkey, Syria, Jordan, Palestine, Egypt, Iraq, Iran–only Muslims may visit religious buildings in Morocco. Luckily there were several old palaces open to the wider public.
Coming out of the medina makes the world seem to open up. The new part of town has a very European feel with broad pedestrian streets and old cafes. The colonial Spanish quarter is called El Ensanche, or "the widening", and it's an appropriate name. Suddenly instead of crowding through a medieval market you're strolling along European boulevards between ornate colonial and Art Deco buildings.
If you tire of wandering the streets, a small but interesting archaeological museum shows off artifacts dating back 100,000 years, including some excellent Roman mosaics. There's also an ethnographic museum and a center for traditional arts, which are going to have to wait until December when I go back!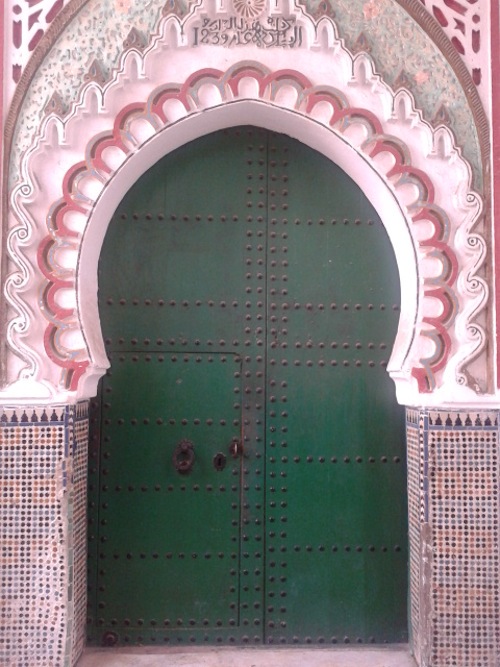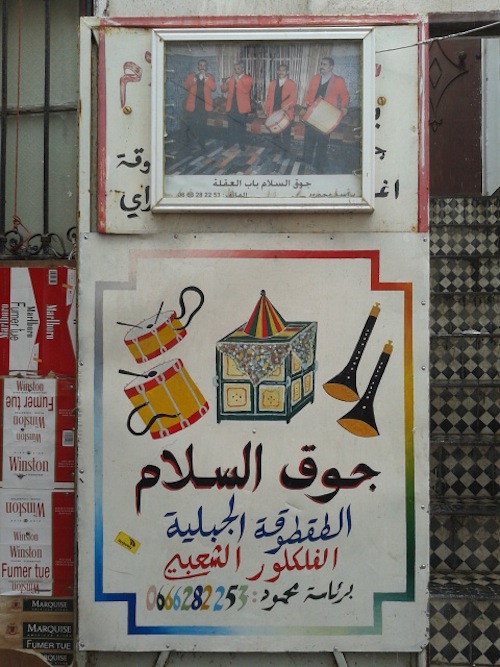 All photos copyright Sean McLachlan.
Coming up next week: Exploring Morocco's Only Stone Circle!
---
Sean McLachlan is the author of the historical fantasy novel A Fine Likeness, set in Civil War Missouri, and several other titles, including his post-apocalyptic series Toxic World that starts with the novel Radio Hope. His historical fantasy novella The Quintessence of Absence, was published by Black Gate. Find out more about him on his blog and Amazon author's page.