Beneath Ceaseless Skies 187 Now Available
Beneath Ceaseless Skies 187 Now Available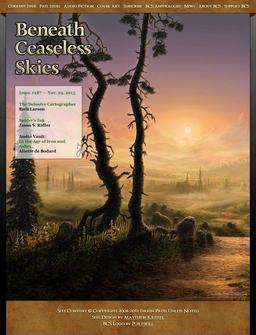 Issue #187 of BCS has short fiction from Rich Larson and Jason S. Ridler, and an Audio Vault podcast (from issue #33) by Aliette de Bodard. It is cover-dated November 24.
"The Delusive Cartographer" by Rich Larson
Crane needed no further invitation. The pain in his back was forgotten now that he was finally here, finally close. He charted a foot over from the cell's sliver window and down to the floor. He'd doubted, in the darkest hours of the night. He'd doubted the whole thing. But the groove was exactly where the cartographer had described it.

"Spider's Ink" by Jason S. Ridler
To catch a bug, you must burn him out. That had been our experience with Macti spies and rebels. Under the authority of the Wayfaring House we came with black fire and warned all that if the Spider known as Heriz was not returned, we would decree the island corrupted and purify by shot and flame. It had worked in Jani, Uurun, and it would work here.

Audio Vault Podcast:
"In the Age of Iron and Ashes" by Aliette de Bodard
Rich Larson has been nominated for the Sturgeon Award, and his work has appeared in Asimov's, Analog, Clarkesworld, F&SF, and many other places. Jason S. Ridler has published over sixty stories in such magazines as The Big Click, Beneath Ceaseless Skies, and Out of the Gutter.
Read issue 187 online completely free here.
The cover art this issue is "Sundown" by Feliks Grzesiczek.
Beneath Ceaseless Skies is edited by Scott H. Andrews and published twice a month by Firkin Press. Issues are available completely free online; you can also get a free e-mail or RSS subscription.
Firkin Press also sells a Kindle/e-Reader subscription, which includes automatic delivery to your Kindle or other device. A 12-month subscription comes with 26 issues and costs only $13.99. Single issues are available on Kindle and at Weightless Books for 99 cents. Subscribe here.
The magazine supports itself though subscriptions, and also by selling anthologies, including the annual Best of BCS volumes and occasional themed books such as the steampunk anthology Ceaseless West. The anthologies each contain 15-18 stories and cost only $2.99-$3.99.
We last covered Beneath Ceaseless Skies with issue #186.
See our Late November Fantasy Magazine Rack here, and all of our recent Magazine coverage here.