Vintage Treasures: Jinian Star-Eye by Sheri S. Tepper
Vintage Treasures: Jinian Star-Eye by Sheri S. Tepper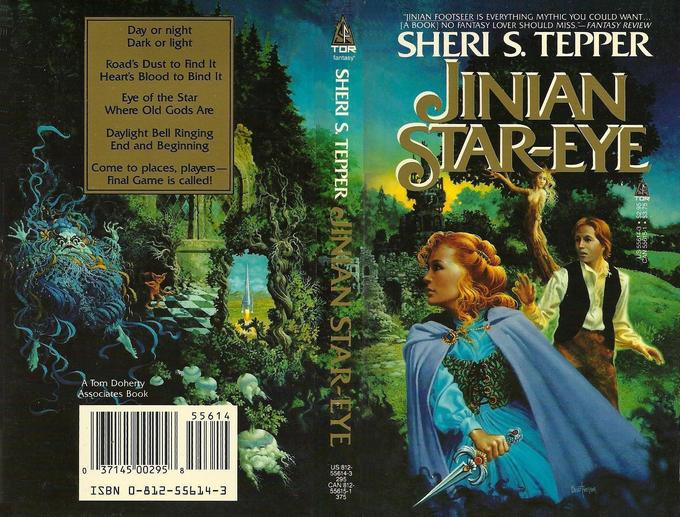 Jinian Star-Eye was the last volume of Sheri S. Tepper's monumental nine-volume fantasy opus, The True Game. On course, in keeping with 1980s-era fantasy marketing, no mention was made of this anywhere on the book. However, if you were an attentive buyer, you might have noticed the poem on the back, a sure tip that this was part of the series. Poetry as a marketing device, to the best of my knowledge, was an idea that was born and died with this series.
We've covered several of the previous installments over the years, but not the entire series. It began with King's Blood Four in 1983, Tepper's first novel. Subsequent volumes were divided into a trio of trilogies, starting with the True Game trilogy:
King's Blood Four (1983)
Necromancer Nine (1983)
Wizard's Eleven (1984)
Followed by the tales of Mavin Manyshaped:
The Song of Mavin Manyshaped (1985)
The Flight of Mavin Manyshaped (1985)
The Search of Mavin Manyshaped (1985)
And finally the Jinian books.
Jinian Footseer (1985)
Dervish Daughter (1986)
Jinian Star-Eye (1986)
I bought The Song of Mavin Manyshaped as part of a handsome collection of four Sheri S. Tepper paperbacks on eBay. No, I haven't read them all yet. Have a little patience.
We've previously covered the following Sheri S. Tepper fantasy novels:
Fish Tails
King's Blood Four
The Song of Mavin Manyshaped
Dervish Daughter
Marianne, The Magus, and the Manticore
Jinian Star-Eye was published by Tor Books in August 1986. It is 252 pages, originally priced at $2.95. The wraparound cover art is by James C. Christensen. It was reprinted in the US as part of The End of the Game, an omnibus volume from the Science Fiction Book Club, in January 1987. There is no digital edition.
See all of our recent Vintage Treasures here.